What's different about Aquanatal Yoga with Birthlight?
There is now a great deal of research about the benefits of yoga during pregnancy: as a practice which targets body and mind together with a focus on the breath, it is not surprising that yoga has gone centre-stage with relaxation and anxiety reduction.
Add water and its relaxing properties, and Birthlight's expertise on birth anatomy and the kind of yoga that works best for pregnant women: this makes for a plentiful formula! Aquanatal Yoga is indeed designed to help expectant mums to prepare for birth but also to enjoy this very special time in their lives with a lasting foundation of wellbeing.
Water helps pregnant women breathe diaphragmatically when they most need it as babies push up against their ribcage and their heart pumps more than twice the normal amount of blood. Babies inside appreciate this 'breathing for 2': good breathing is like giving them nourishing sweeties that also make them healthy. Birthlight Aquanatal Yoga differs from other forms of antenatal aquacise by being done immersed as much as possible -no worries for non-swimmers, they can be accommodated: this increases water resistance to create cardio workouts which would just not be possible on land without a lot of previous training. Our remit is to make yoga accessible to all women, – and we mean ALL women- in water, with creative uses of props that are found in all swimming pools.
Aquanatal yoga includes practices for breathing, relaxation, strengthening, stabilising, stretching, adapted swimming strokes, and connection with oneself, baby and the other women in the class
.
Invariably, the teachers we train at Birthlight and the pregnant women who attend their classes send us positive feedback. We do not make any promises, but alleviating pelvic pain or helping babies get into an optimal presentation before birth are frequently reported as bonuses. Yoga does it! Becky Minihan, herself an accomplished swimmer, baby and children's swim teacher, shares her experience. We wish her and her baby, and dad too, all the best in the coming weeks.
Becky:
I love teaching Aqua Natal Yoga, and having the ability to invite expectant mums to the pool. The class helps ladies to physically and emotionally prepare for birth and motherhood, and I have seen great friendships form in this group too.
The training from Birthlight is wonderful, Aqua Yoga was the first course I attended and I have since been back to complete my diploma and Aquatic Nurture for Newborns. Francoise's knowledge and advice is amazing and her courses always leave me inspired to make a difference. You get ongoing support after completing the courses too; Birthlight are always an email away and the group Whatsapps are useful when sharing ideas with peers and completing the coursework.
Since becoming pregnant myself, I have taken part in my own Aqua Natal Yoga classes and can now see first-hand how fabulous the class is! Feeling weightless in the water and safely exercising has been something I have looked forward to each week. The breathing techniques have really prepared me for labour too! In particular I have been really enjoying a water walk of backwards tree pose into warrior pose, it allows me to control my breath and have a full stretch out in the water. I also enjoy the adapted swimming stroke of the beetle swim, and I did extra when I found out baby was breach and I'm sure this resulted in managing to turn baby!
Feedback from Women in Becky's Aquanatal classes
I have loved the aqua yoga classes with Becky. Friendly, professional and personable. Becky goes the extra mile to ensure all the mums are comfortable, at ease and happy which I feel is really important for ladies especially during pregnancy. I can't wait to continue with the different class offers once our baby arrives. (Leigh, 2019)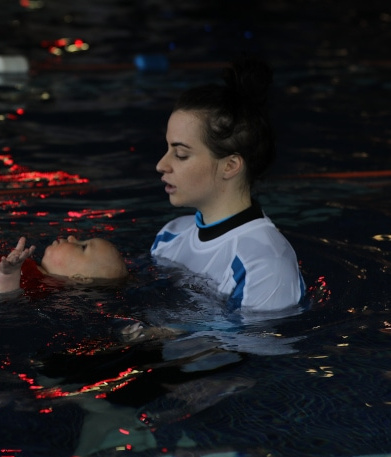 Becky Minihan
Founder of "Dolphin Babies"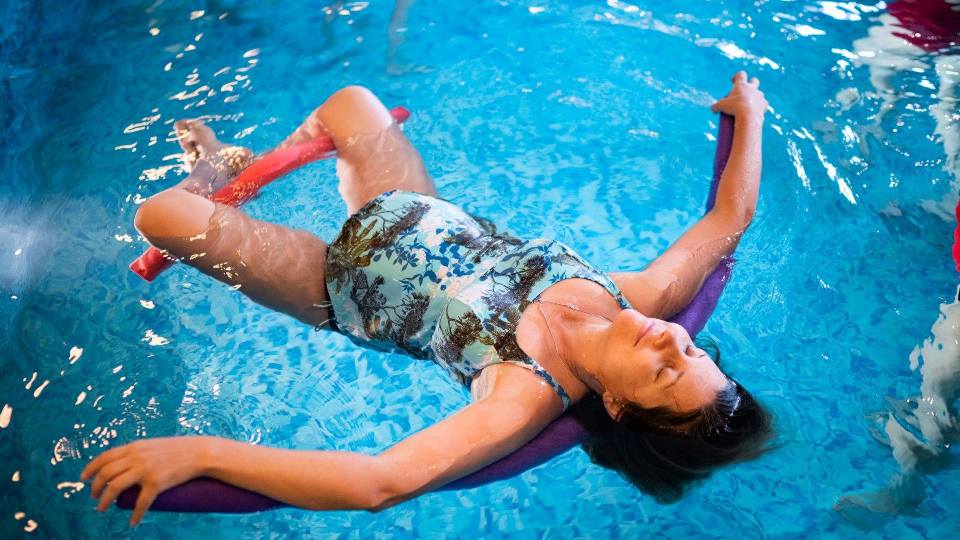 Birthlight Aquanatal Yoga Course
Book Now for the course starting on 4th October