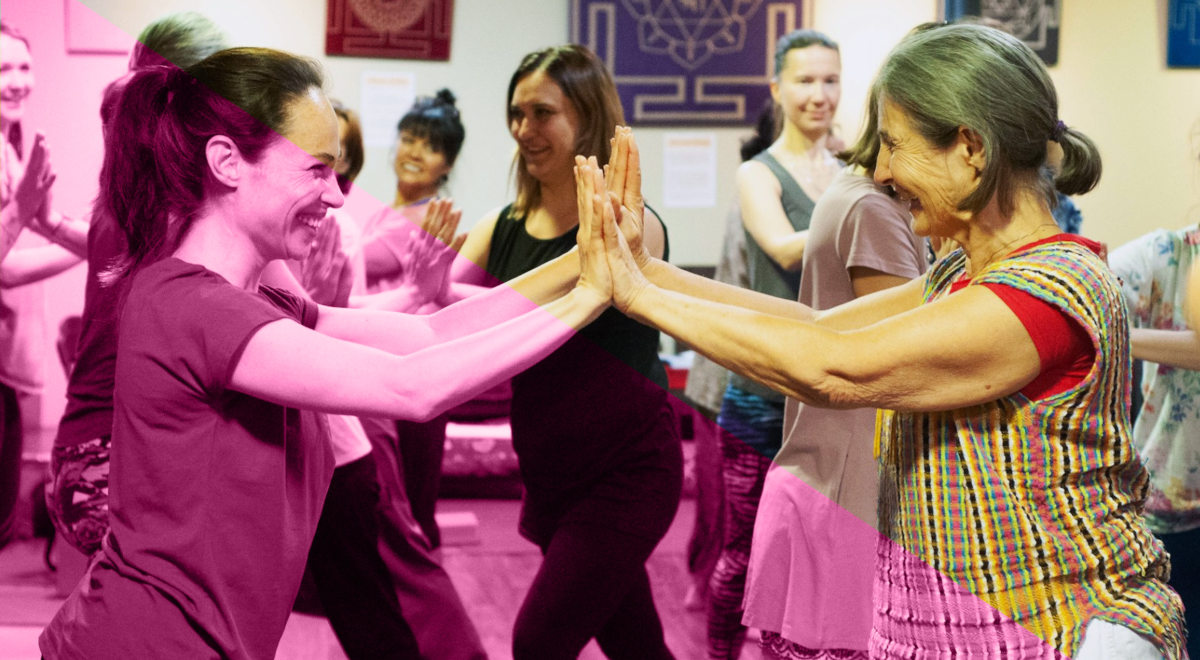 The courses which make up Well Woman Yoga discipline are: Well Woman Yoga Diploma 1&2, Fertility Yoga, Yoga for Menopause, Yoga for the Pelvic Floor, Yoga for the Prevention & Repair of Diastasis Recti, Yoga for the Prevention and Repair of Pelvic Girdle Pain, Yoga to Support Breast Cancer Recovery, and Well Woman Yoga Day Workshops (selected topics).
OVERVIEW
In continuity with Perinatal Yoga, Birthlight Well Woman Yoga helps women to address common conditions pre-post childbirth and to actively enhance their vitality. Teachers are trained to empower women with yoga therapy integrated in their daily lives at all stages of the reproductive cycle and beyond. Wellness, living with ease and joy, and healing are magical but not mysterious: a path of practice, in an inclusive circle of friends, opens the way.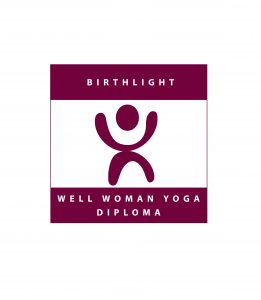 Birthlight Well Woman Yoga training areas at a glance:
| | | | |
| --- | --- | --- | --- |
|   | Teacher Training | Short Course | CPD |
| Well Woman Yoga Diploma 1&2 | * |   |   |
| Fertility Yoga |   | * | * |
| Yoga for the Menopause |   | * | * |
| Birthlight yoga for the pelvic floor |   |   | * |
| Yoga for the Prevention and Repair of Diastasis Recti |   |   | * |
| Yoga for the Repair and Prevention of Pelvic Girdle Pain |   |   | * |
| Yoga to Support Breast Cancer Recovery |   |   | * |
| Well Woman Yoga day Workshops (selected topics) |   |   | * |
The use of micro-movements of Yoga taught with detailed reference to anatomy and physiology is a hallmark of all Birthlight Well Woman Yoga courses.
HISTORY
While teaching her first yoga for pregnancy and childbirth classes in Cambridge in the 1980s, Françoise Freedman felt motivated to open a special class for women who needed therapeutic applications of yoga postnatally. Soon the group included mothers and older friends seeking to improve their pelvic health with yoga. Françoise coined the label 'Well Woman Yoga' to name her module on Yoga for Women's Health designed for students of the Biomedical Trust Yoga Therapy Diploma in London in the late 1990s. Practices have been considerably refined and expanded in the light of new findings and through collaborations within and outside Birthlight.
Teacher training course are now available in the following formats: Classic (face-to-face), Blended (combination face-to-face and online component), and Livestream (using Zoom video with a live tutor).
Please click the "+" symbol below to open a window with more information or click the "-" symbol to close the window and reveal all subsections of information.
Birthlight Well Woman Diploma (Parts 1&2)
This unique Yoga training course introduces therapeutic yoga for women sequentially from teens to post-menopause years.  Well Woman Yoga offers anatomy-based adaptations and modifications to meet the needs of each individual woman with empathy, understanding and love through their life transformations. The course has a comprehensive, holistic and positive perspective on women's wellbeing.
COURSE OUTLINE
PART 1 equips course participants with principles and hands-on techniques that will help them support wellness patterns in women, irrespective of age, health status, degree of fitness or life trajectory. Yoga practices promoting hormonal balance and the regulation of the menstrual cycle before and after childbirth are presented and explained with reference to anatomy and physiology. The course includes the repair of chronic birth-related ailments with yoga therapy, even after a long time.
PART 2 addresses women's re-creation of their bodies and identities through transformations during their reproductive and life cycle. A wide range of yoga practices are offered to support women during their pre, peri and post menopause years. The course includes yoga therapy for post-operative recovery, particularly after hysterectomy and women's cancers.
Course contents include:

Fundamentals of body structure and movement together with breathing patterns
A strong focus on core strength, understood both anatomically and energetically
The course refers to Ayurveda, in parallel with neuroanatomy and neuroendocrinology (with particular attention to the Vagal system and hormonal balance).
Use of visual materials, research articles, experiential anatomy to impart anatomy and physiology knowledge.
Micro-movements of the pelvis and isometric toning with the breath underpin the yoga therapy in this course.
A fluid and dynamic style of yoga; flow practices accessible to all women without compromising on a safe range of motion, stability and balance.
Circle, small group and pair practices promoting a sense of connection while allowing each woman to develop her own transformative yoga practice.
Tested sequences with therapeutic benefits that can be integrated in programmes for groups or individuals
Elements of practice that yoga teachers can integrate in therapeutic programmes
to individualise the practices according to women's ages, energy levels and health status.
Resources for creating a welcoming and caring environment for teaching Well Woman Yoga in studios or in clinical settings.
WHO CAN ATTEND THIS COURSE?
Yoga therapists
Yoga teachers who hold a prenatal/ postnatal teaching qualification
Other therapists working in the areas of women's health with a personal yoga practice can apply individually.
FORMAT AND DURATION
Part 1: principles and applications of yoga for women's health and wellbeing
4 days face-to-face (Classic Blended)
OR
3 days livestream + 2 days face-to-face (Combined Blended)
Part 2: focus on the pre, peri, and post manopause stages
2 days face-to-face (Classic Blended)
OR
1 day Livestream and 1 day face-to-face (Combined Blended)
These courses consists of face-to-face and/or livestream contact hours plus an online learning component (thus the term "blended"). Upon purchase participants receive access to this online learning component (e.g. online reading, quizzes, etc). There you will find our exclusive course materials developed through years of teaching experience by the Birthlight tutor team. We have more explanation on course format in the FAQ's.
Study materials include:
 an online printable comprehensive manual
 explainer videos and presentations of anatomy and physiology
class recordings
printable handouts.
Discussion groups, quizzes and practical assignments are part of our live delivery of courses by experienced tutors. Individualised support and assessment of recorded teaching videos uphold Birthlight training quality standards.
ASSESSMENT
You will be assessed continually with quizzes and informal practicals through the course. To gain your certification you will need to submit a case-study documenting 4 successive group sessions and  4 successive 1:1 sessions, and a recorded video (10 minutes) of your teaching as specified by the course tutor.
QUALIFICATIONS
On successful completion of the Part 1 and Part 2 courses, students gain the Birthlight Diploma in Well Woman Yoga that entitles them to offer Well Woman Yoga classes or one-to-one sessions.
The Birthlight Postgraduate Well Woman Yoga course accredited with Yoga Alliance Professionals consists of 9 contact training days (85 contact hours) in modular units thus consisting of "Well Woman Yoga Parts 1&2" and either option #1 or #2 below:
| | |
| --- | --- |
| Option # 1: WWY 1&2 + | Postnatal Yoga (2 days) + Birthlight Yoga for the prevention and repair of Diastasis Recti (1 day) |
| Option # 2:WWY 1&2 + | Fertility Yoga (2 days) + Yoga for Breast Cancer Recovery (1 day) |
| | |
| --- | --- |
| | The accredited Well Woman Yoga Diploma (Yoga Alliance Professionals) requires the successful completion of two additional courses (as listed above). YAP Diploma holders can use the YAP trainer badge. |
WHAT STUDENTS SAY ABOUT THIS COURSE
'The Birthlight Well Woman Yoga Training is an excellent holistic approach to understanding Women's Health and all stages of a woman's life. The course theory is a great foundation in understanding the more common experiences of a woman from fertility through to post menopause and the practices shared are easy to follow and very therapeutic and nourishing. The instruction is excellent and very inspiring.

On a personal level, the training helps me to better understand my own experiences and gives me the confidence to share the practices with women of all ages in a general class, workshop or more therapeutic setting'.
Ami Patel. London January 2020
'The Birthlight courses come from a source of deep knowledge and authenticity.  To graduate as a Wellwoman teacher under the tutelage of Francoise Freedman gives me the confidence to know that I can really help my students.  Such a supportive and welcoming environment makes it a joy to study under Francoise.'
Belinda Edwards,London January 2020.
'I think this is a great add on to anyone who is interested in working with women and yoga. It's a great follow on from pregnancy/postnatal yoga and is also really useful for my own personal practice'.
Cathy Welch. London July 2019
Well Woman Yoga Diploma Courses planned in 2020-21 will be re-scheduled soon in blended formats, including the following short courses/CPDs.
FURTHER STUDY
(Descriptions coming soon as courses are announced)
Fertility Yoga
Yoga for the Menopause
Birthlight Yoga for the Pelvic Floor
Yoga for Breast Cancer recovery
Yoga for the prevention and repair of Diastasis Recti
Yoga for the prevention of repair of Pelvic Girdle Pain (PGP/SPD)