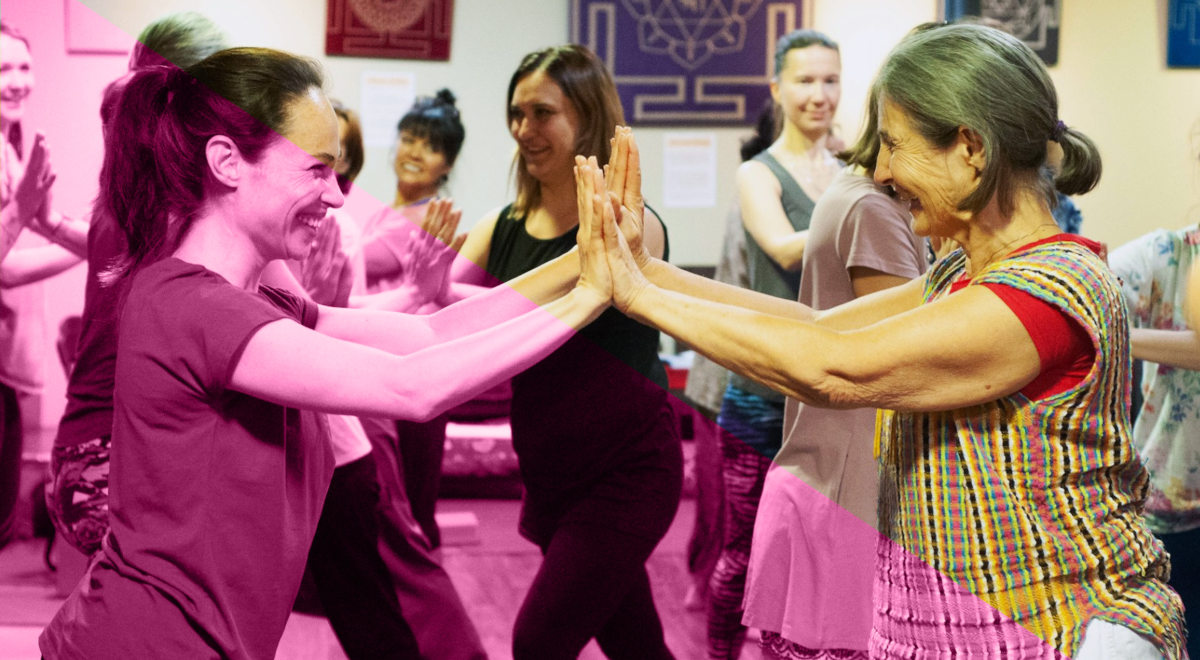 The Birthlight Well Woman Yoga Diploma course trains teachers to empower women with therapeutic yoga integrated in their daily lives from menarche to perimenopause and beyond. Well Woman Yoga offers all women unique ways to traverse the hormonal, physiological and emotional changes they inevitably go through during their life cycles.
Overview
Well Woman Yoga helps women actively enhance their vitality as well as addressing common conditions that the female population experiences including pre-conception and post childbearing issues. Wellness, living with ease and joy, and healing are magical but not mysterious: a path of practice, in an inclusive circle of friends, opens the way. Whilst the Well Woman Yoga course does not include Pre & Postnatal Yoga, the Well Woman Yoga course very much complements our Perinatal Yoga training.
Well Woman teachers offer classes in general group or 1:1 sessions or with a particular specialism that they focus on with their choice of their elective 4th module. Students may start with the 3 foundation & core modules or they may begin with one of the elective modules as a standalone course and then decide to take the full training. Ideally the Diploma is completed over a period of 2 years.

Find a Course
Why you should train in Birthlight Well Woman Yoga:
#1. Well Woman Yoga offers all women unique ways to traverse the hormonal, physiological and emotional changes they inevitably go through during their life cycles, whether they have previous yoga experience or not. With Well Woman Yoga all women can increase their health and well-being because
they can enjoy a fluid and dynamic style of yoga without compromising on a safe range of motion, stability and balance.
strong and flexible muscles in healthy spinal alignment contribute to wellness, this is the foundation of our teaching in relation to the nervous system and the endocrine glands.
this therapeutic yoga empowers women on and off the mat, at all stages of the reproductive cycle and beyond.
the practices promote hormonal balance and the regulation of the menstrual cycle before and after childbirth or the childbearing years.
Micro-movements of the pelvis and isometric toning with the breath promote deep awareness and health of the whole pelvic area, central to women's vitality
they can practise yoga in a welcoming and caring environment which enhances all aspects of their yoga
in face-to-face classes, circle, small group and pair practices promote a sense of connection while allowing each woman to develop her own transformative yoga practice
#2. You will learn a new skill set to specifically support women's health and well-being, this may be a totally new area of teaching depending on your background or add substantially to what you are already offering, whether you come from a yoga teaching, yoga therapy or another professional background.
#3. Whether you are already passionate about improving women's experiences of pelvic health, menstruation, fertility, menopause, or just starting in this area this course will give you the experience and skills you need to start running effective enjoyable sessions in generalised well woman yoga classes, more specific themed classes or workshops and tailored 1:1 sessions or integrating the practices into your existing classes.
Structure of Birthlight Well Woman Yoga Diploma Training:
3 compulsory foundation training modules + 1 self study Ayurveda module
1 elective module
Self study and Coursework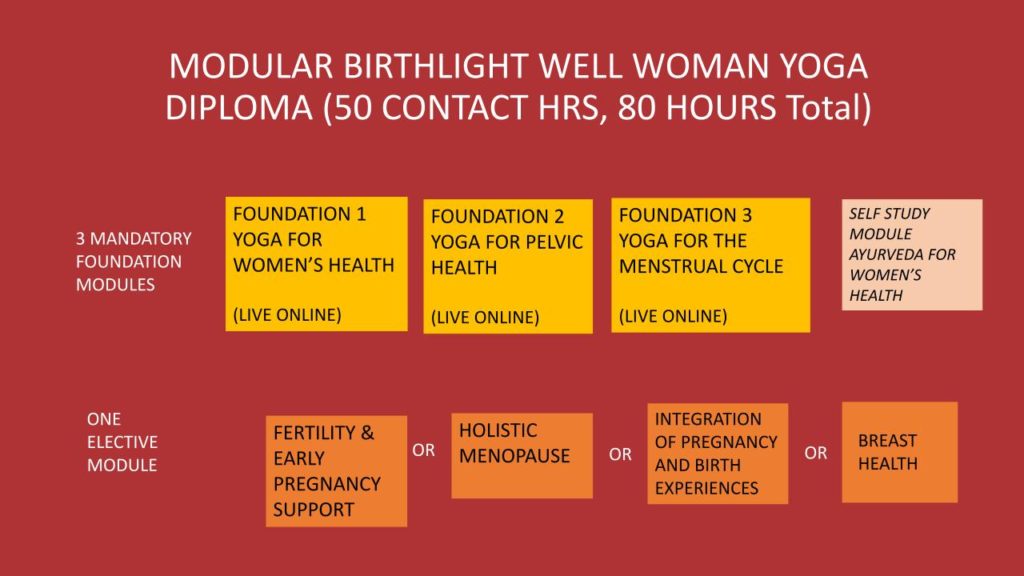 What you will learn:
Principles and hands-on techniques to help you support wellness patterns in women, irrespective of age, health status, degree of fitness or life trajectory.
A strong focus on core strength, understood both anatomically and energetically
Yoga practices promoting hormonal balance and the regulation of the menstrual cycle before and after childbirth are presented and explained in the light of current advances in yoga anatomy and principles of yoga therapy, combining Ayurveda and bio-medical approaches.
The fundamentals of structure and movement together with breathing patterns as specific to women's bodies
The main principles of Ayurveda with relevance for women's health, in parallel with neuroanatomy and neuroendocrinology (with particular attention to the Vagal system and hormonal balance).
Appropriate mudras, use of breath and sound.
Experiential anatomy, supported by the use of visual materials and research articles, to assimilate anatomy and physiology in direct ways.
Tried and tested sequences with therapeutic benefits that can be integrated in programmes for groups or individuals
Elements of practice that yoga teachers can integrate in therapeutic programmes to individualise the practices according to women's ages, energy levels and health status.
Resources for creating a welcoming and caring environment for teaching Well Woman Yoga in studios or in clinical settings.
Assessment, Self-study & Coursework
You will be assessed throughout the course with quizzes and informal teaching practicals. To gain your Diploma you will need to submit:
1 case-study for the Foundation
1 case study for the Elective Module
Each case study documents 4 successive sessions, in a group class or a 1:1.
Answer a worksheet of 20 questions.
A recording (10 minutes) of your teaching as specified by the course tutor
As an extension of the training the self-study hours and coursework consolidate your understanding and skills. All coursework is thoroughly read and commented on to make sure you continue refining and developing your teaching beyond the training days.
Further professional development:
other elective modules
CPDs
Well Woman Aqua Yoga- a parallel course for those interested in working with women's health in water
Attend a Well Woman Yoga retreat
What makes Birthlight different as a training provider:
We have a lot of collective experience. Plus you'll be taught by tutors with a wealth of experience to share. The Foundation Modules include the participation of an experienced Ayurvedic practitioner and teacher.
Close to 1000 teachers have taken this course in the last 20 years.
While teaching her first yoga for pregnancy and childbirth classes, Françoise Freedman felt motivated to open a special postnatal class for women who needed therapeutic yoga to recover from their births. Soon the group included mothers and older friends seeking to improve their pelvic health with yoga. Françoise coined the label 'Well Woman Yoga' for the Yoga for Women's Health course designed for the Biomedical Trust in London in the late 1990s. Since then, practices have been constantly expanded and refined as Birthlight training tutors have contributed their expertise and incorporated new research.
What our participants have to say ….
'The Birthlight Well Woman Yoga Training is an excellent holistic approach to understanding Women's Health and all stages of a woman's life. The course theory is a great foundation in understanding the more common experiences of a woman from fertility through to post menopause and the practices shared are easy to follow and very therapeutic and nourishing. The instruction is excellent and very inspiring. On a personal level, the training helps me to better understand my own experiences and gives me the confidence to share the practices with women of all ages in a general class, workshop or more therapeutic setting'

Ami Patel, London, January 2020
'The Birthlight courses come from a source of deep knowledge and authenticity. To graduate as a Well Woman teacher under the tutelage of Francoise Freedman gives me the confidence to know that I can really help my students. Such a supportive and welcoming environment makes it a joy to study under Francoise.'

Belinda Edwards, London, January 2020
'I think this is a great add on to anyone who is interested in working with women and yoga. It's a great follow on from pregnancy/postnatal yoga and is also really useful for my own personal practice'.

Cathy Welch, London, July 2019
I have attended several courses with dr Francoise Freedman and the Birthlight team in the past and believe them to be the best in terms of relevancy and content. The online format is interactive, and though there is plenty of topics that was covered in out meetings, they did not feel like lectures. From Francoise and fellow teachers to the takeaway materials, I have always found that I come away feeling nourished, inspired and with valuable new tools and techniques that I can implement into my teaching practice. Jane Kuismin 2021

A unique, useful and caring option for training in yoga for women's health. Other options seemed to have either no soul or were too 'woo-woo' for me! Birthlight always gets it just right. That's why I come back even when I've been away for a while. It's like coming home.

Liz Brown, 2021
Well Woman Short Courses

Well Woman Short courses– Fertility, Holistic Menopause…

Elective modules and components of the Well Woman Diploma can be taken as short courses either as a CPD for those who have trained with us in Well Woman Yoga previously or as a Short course for those who wish to focus on one aspect of Well Woman Yoga for their personal practice or teaching development. A teaching certificate is available with the completion of the relevant coursework.

Yoga for Fertility and Early Pregnancy Support

This short course is an opportunity for you, as a yoga teacher or therapist, to deepen your understanding of yoga to support women (*in the broadest sense of the term) who wish to have a baby but face challenges at various stages along their fertility journeys. Successful conception is seen as the main goal but avoiding loss in the early weeks, whether conception has been spontaneous or facilitated by IVF, can be just as important. About a fourth of women's infertility diagnoses are inconclusive. For women over their mid-thirties, age is often quoted as a critical factor, but this is not always the case. Anecdotal evidence can be contested but it shows the power of psycho-somatic factors in unexplained infertility: this is how yoga can be most helpful.

Whether you have already trained with Birthlight or not, you may be aware that gentle therapeutic yoga can promote feminine wellness, including fertility, from a holistic perspective integrating mind, body emotions and spiritual dimensions of being.

This therapeutic yoga course translates recent anatomy and physiology research into original practices that are effective to enhance blood circulation and innervation of the lower pelvis, ensuring optimal function of the ovaries before and after ovulation. In IVF cases, this can make a significant difference for egg extraction and fertilisation. Slow breathing takes these practices to the essence of yoga, inducing an effortless relaxed state. Going beyond a focus on pregnancy tests, you will be invited to guide women in a connected, empathic, and holistic way along fertility journeys that are linked with very personal stories.

Why join this course now?

With Birthlight fertility yoga, both women who for unknown reasons do not conceive spontaneously and women who have opted for assisted conception can benefit from the practices in a holistic, medium to long term perspective that hopefully will include their babies.
Medicalised approaches to fertility are remarkably precise, but they often ignore relaxation as a key factor of success. Women and their partners need to be shown how to self-nurture to navigate through what is invariably a very emotional process. Birthlight has identified a range of relaxation practices for use on and off the mat to effectively neutralise the effects of stress in the body.
In this course, all contributing factors are considered, from habitual tension in posture to breathing patterns in response to emotions, and from attitudes to matrescence that may not be fully conscious to self-empowerment through self-awareness and interoception.

What is special about this livestream course?

The two trainers who co-tutor this course, Françoise Freedman and Vera Dubrovina-Thompson, are highly experienced in this yoga specialty. Françoise pioneered fertility yoga classes in London in the 1990s, with success rates that attracted media attention. This short course is a module for the Birthlight Well Woman Yoga Diploma, which focuses on reproductive health and wellness through women's life cycle. Vera, after developing excellent yoga skills to teach and care for women, and working as a birth keeper, has made fertility a focus of her London-based career. She not only supports women along their fertility journeys

Yoga for Holistic Menopause

Coming soon!

Integration of Pregnancy and Birth experiences for long-term wellbeing (coming soon)

Yoga for Breast Health (coming soon)
Well Woman CPD Courses

These CPDs are open to yoga practitioners, teachers and yoga therapists as well as other interested professionals.

Birthlight Yoga to Optimise Pelvic Floor Tone
Yoga for the Prevention and Repair of Diastasis Recti
Yoga to Prevent and Alleviate Pelvic Girdle Pain
Yoga to support Breast Cancer Recovery
Marma Therapy for Well Woman Yoga Teachers/Therapists
Cesarean Scar Healing with Massage and Yoga