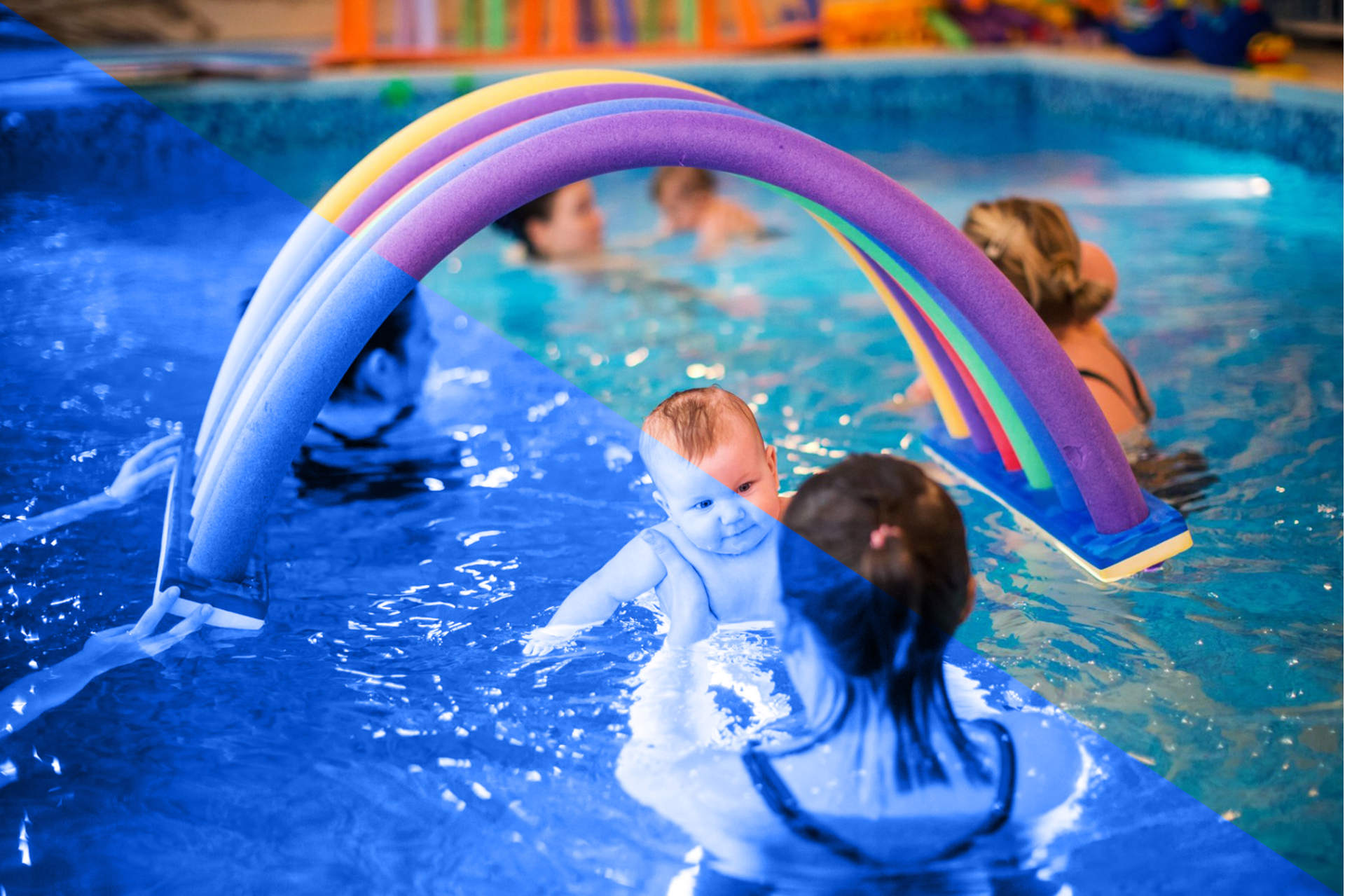 Birthlight Baby Swimming Area consists of courses: "Baby Swimming Teacher Certification (Parts 1&2)" and "Aquatic Nurture for Newborns" (Short Course / CPD). Additionally, "Foundations of Swimming for Toddlers", "Aquatic Nuture for Newborns", "Baby-led Submersions", and "Swimming for Babies/Toddlers with Special and Additional Needs" are considered short courses/cpd's.
OVERVIEW
| | |
| --- | --- |
| In ways that remain unique, Birthlight combines interactive enjoyment in water and foundations of unaided swimming for infants aged two months to 4 years with their parents. Submersion is not taught as a specific element of baby swimming but through techniques of minimal support of babies. Very gentle moves in the early "in arms" phase are conducive to each baby's discovery of their water balance. This baby-led and water-led approach involves a process of unlearning by parents that is both challenging and rewarding. We call it 'Water Parenting'. | Find a Course |
HISTORY
Birthlight's gentle yet dynamic approach to baby swimming are inspired from Amazonian forest people with whom Françoise Freedman, who had been a competitive swimmer in her teens and later lived as an anthropologist amongst these people. Their carefree way to impart water confidence to small children motivated Françoise to seek an alternative to Western-style swimming classes. After leading her four children and many others to swim early, her method attracted media attention and friendships with other pioneers of baby swimming worldwide. Françoise's book 'Water Babies' (Anness 1999) is now in its 6th edition. She received the prestigious Virginia Hunt Award in 2009 (World Aquatic Babies Congress) Birthlight courses have been developed with contributions from several outstanding Birthlight Training Tutors, past and present, and they continue to evolve to respond to world trends and emerging research.
Birthlight has had a close association with STA (Swimming Teachers Association) since 2003.
Please click the highlighted option below to open a window with more information or click the option again to close the window and reveal all subsections of information.
Baby Swimming Teacher Certification (Parts 1&2)

COURSE OUTLINE

This course imparts Birthlight's original baby swimming practices backed up by clear rationales. Part 1 relates to babies aged 2 months to 10-12 months (variable). Part 2 expands practices taught in Part 1 for babies in their second year (12-24 months), with additional resources for beginner toddlers. The aim is to equip participants to teach parent-baby pairs (including non-swimming parents) with proficiency and confidence.

PART 1

Course contents include:

How to empower parents to let the water support their babies: parent immersion and use of the properties of water for baby swimming
A repertoire of 6 'relaxed holds' allowing parent-baby communication and well supported gentle movements in water from a stable stance (demonstrations with dolls)
'Relaxed baby floats' progressing from 'cradle float' in arms to floating with hand support
Rhythmical sequencing of mini-moves, rapid and slow, that support babies' integration of primitive reflexes in the first year
Use of water noodles to support parents in 'front rides', floating on their backs with their babies on board
Common 'baby cues' through which babies communicate their readiness or resistance to specific water practices and resources to help parents respond appropriately
Playful techniques to gradually detach babies from parents' bodies
'Mirroring practices' to familiarise parents with babies' sensory integration in water including joint preparation for submersion
Fundamentals of research on how babies learn and build memories (applied to baby swimming)
Practical resources to support different parents and babies individually and in groups

You will also learn:

How to prepare class materials with options to change plans if needed
How to engage parents in observations and 'learning from their babies'

PART 2

Fluid transitions between 'relaxed holds' to encourage babies' self-propulsion
How to teach a set of upright practices to encourage rotation as a foundation of swimming
Model circuits including rafts, wall bar and/or pool steps to gradually 'widen the gap'
in jumps
Use of props to promote 'water body balance'
Fundamentals of anatomy of physiology for the second year relevant to motor skills in water
'Learning plateaus' and activities to sustain parents' interest
How to promote enjoyable spontaneous submersions
Integration of beginner toddlers in mixed groups: patterns of progression, techniques to promote parents' relaxed handling of tentative toddlers
Water safety skills for the second year
First transitions to unaided swimming

You will also learn:

How to chart progressions of babies/toddlers in the water

WHO CAN ATTEND THIS COURSE?

Baby swimming teachers who wish to expand their techniques
Qualified swimming teachers
Birthlight's 'mother's route to baby swimming qualification' for swimmers who have experience with babies

Notes. A CPR qualification is highly recommended. Life Saving skills are required for those planning to work in pools without a lifeguard on poolside. Birthlight recommends the STA Safety Award for Teachers (first aid, lifesaving skills, CPR including infant CPR).

For those outside the UK, compliance with local regulations for lifeguarding and lifesaving qualifications should be adhered to.

FORMAT AND DURATION

The course is available in 3 formats:

Face-to-face

5 Days
Part 1: 3 Days (5 pool sessions) face-to-face meetings
Part 2: 2 days (3 pool sessions + assessment)

Livestream & Face-to-face Blended

Part 1: Livestream Zoom tutoring + online learning component
Part 2: 2 days face-to-face (4 pool sessions)

Livestream Blended
Part 1: Livestream Zoom tutoring and online learning component + home study + review of practice

We have more explanation on course formats in the FAQ's.

As much as possible our live-streamed tutoring will be GMT scheduled for possible morning access to course participants in America, Asia and Australia.

There is scope to record the training sessions to allow each student to access them when they can get to a pool or when convenient for them.

Study materials include:

A comprehensive Baby Swimming Manual given at the start of the course
Explainer videos
Practice and Class recordings for teaching purposes
Printable handouts
Example lesson plans
Substantial online resources (including access to streaming relevant chapters from the Birthlight Water Parenting DVD)

All live stream classes are followed by breakout rooms, discussion and tutor-supervised practical assignments (individual or in pairs). Participants' exchanges are encouraged between course parts through What's App or Wechat). Tutor support is available to course participants while completing their assignments.

Our online training modalities are fully recognised by Birthlight insurers, BGi.

ASSESSMENT

This course is assessed with theory quizzes and practicals throughout the course. To gain your certification you will need to submit a documented case-study of four teaching sessions (templates are provided) and a recorded video (10 minutes) of your teaching as specified by the course tutor.

QUALIFICATION

On successful completion of Parts 1 & 2 practical assessments and online reading and tasks, course participants will obtain the Birthlight Baby Swimming Certified Teacher qualification. The Birthlight qualification is well recognised worldwide for its stringent quality standards.

After two years of teaching, Birthlight Baby Swimming Certified Teachers qualify to take the STA Level 3 Diploma course in Parent-Child swimming.

WHAT STUDENTS SAY ABOUT THE COURSE

This course was amazing. It exceeded my expectations & I was excited about becoming a swim teacher from day one. The education & hands on practical work we received in just 3 days was amazing. Gill ensured we learned loads but in a fun and interactive way. She delivered the course in a very nurturing way which made it all very easy. Loved it all. Thanks Gill!

Sinéad, July 2022 Northern Ireland

Went Into the birthlight course thinking I was teaching baby swim, after the course I found it to be much more than baby swim, it's about fun for both parent and baby, relaxing and bonding for parent and child. In a fast pace technology lead life it's 30 mins of being in the water and enjoying time with your child and as a teacher aiding that fun bonding experience. Which hopefully we can pass on.

Laura, July 2022 Northern Ireland

I have just completed my baby swim course with Gill , and it was fantastic ! I could not recommend her enough , her passion and knowledge is amazing . Gill has a wonderful presence and makes you feel at ease both in the classroom and in the water . I thoroughly enjoyed my 3 days ! Thank you .

Jamie, July 2022 Northern Ireland

I really liked practice sessions with real mums or dads and babies. Some practical questions which came up to my mind in real teaching experience were clearly presented in theory or discussion faze. I really enjoyed the dynamic flow of 5 days. All the trainees showed improvement and we could learn from each other. It took some days for me to get used to getting into & out of the water, but lunch break gave me a nice change.

Even though I was not from a swimming background, the course was informative from a parenting perspective. There was a lot of personal discovery as with other Birthlight trainings!

Rumi (Japan) Baby Swimming course 1&2 Singapore 2020

A wonderful course aimed at promoting wellbeing for children as they embark on their swimming journey

Rosanna Mahmood-Bishop, BS1 Cambridge, February 2020

Further Study

Further training: CPD and stand-alone courses that double as CPD's.

| | | |
| --- | --- | --- |
| | Short Course | CPD |
| Foundations of Swimming for Toddlers (2-4yrs) | X | X |
| Swimming for babies/toddlers with special and additional needs | X | X |
| Aquatic Nurture for Newborns | X | X |
| Baby-led submersions | | X |
Aquatic Nurture for Newborns (Short Course / CPD)

This course equips baby swimming teachers with plentiful resources to help parents introduce their babies to water at home in baby baths or home tubs. A gentle progression facilitates the early start of baby swimming in warm pools at two months. The first day of the course is open as a stand alone CPD for midwives, doulas and nursery nurses interested in supporting parents to give their babies stress free and happy bathing experiences and to facilitate parent-baby bonding through baths.

January 2023 Update:

COURSE OUTLINE

Day 1
Course contents include:

Fundamentals on the sensory world of newborns
Newborns'cues and how to teach parents to read and respond to them
'Relaxed Holds' in preparation for baby baths
Techniques to support newborns in baths
Parent-baby communication during the bath
Swaddled baths
The art of 'water pouring' and 'finger splashing'
Progression of gentle bath moves for newborns
Timings for newborns' baths
Wrap, dry, skin to skin, feeding and massage after newborns' baths
Different scenarios and related resources

You will also learn


How to present the benefits of joyful first baths to parents
How to set up Aquatic Nurture sessions for new parents at their homes

Day 2

Fundamentals of infant reflexes and early motor development
Criteria for facilitating the transition from home bath to warm pool
Entries and exits in different pools
Parents' relaxed stance in water
Holding and handling young babies in the pool
Theory and practice of parent-infant communication in water
First gentle baby swimming moves for parents with babies 2-4 months
Cues indicating enjoyment or stress
Understanding the gag reflex and the risks of swallowing water
Floating relaxation with young babies on board (using water noodle support)
Wrap & dry and massage after pool session

You will also learn:

How to address parents' excitement and/or fear
How to support parent-baby communication and bonding in the pool
How to structure short but activity-rich sessions for parent-baby pairs

FORMAT AND DURATION

Each of the two days that make up this short course is available in 2 formats:

Format
Duration
Face-to-face Blended
1day + 1day
Day 1: theory sessions + two bath practices in face-to-face meeting
Day 2: theory sessions + two pool practices in face-to-face meeting
Livestream Blended
Day 1&2: Livestream Zoom tutoring and online learning component + home study + review of practice

These courses consists of face-to-face and/or livestream contact hours plus an online learning component (thus the term "blended"). Upon purchase participants receive access to this online learning component (e.g. online reading, quizzes, etc). There you will find our exclusive course materials developed through years of teaching experience by the Birthlight tutor team. We have more explanation on course format in the FAQ's.
As much as possible our live-streamed tutoring will be GMT scheduled for possible morning access to course participants in America, Asia and Australia.
There is scope to record the training sessions to allow each student to access them when they can get to a pool or when convenient for them.
Study materials include:

A comprehensive Aquatic Nurture for Newborns Manual given at the start of the course
Explainer videos
Practice and Class recordings for teaching purposes
Printable handouts
Example lesson plans

All live stream classes are followed by breakout rooms, discussion and tutor-supervised practical assignments (individual or in pairs). Participants' exchanges are encouraged between course parts through What's App or Wechat). Tutor support is available to course participants while completing their assignments.
Our online training modalities are fully recognised by Birthlight insurers, BGi.

ASSESSMENT

This course is assessed with theory quizzes and practicals throughout the course. To gain your certification you will need to submit a recorded video (10 minutes) of your teaching as specified by the course tutor.

QUALIFICATION

On successful completion of Days 1 & 2 and assignments, participants will receive the Birthlight Aquatic Nurture for Newborns teacher certification.
On completion of Day 1, participants will receive a CPD certificate (Aquatic Nurture for Newborns, Joyful First Baths). The CPD confers 12 points.
On completion of Day 2, participants will receive a CPD certificate (Aquatic Nurture for Newborns, Transition from Bath to Pool). The CPD confers 12 points