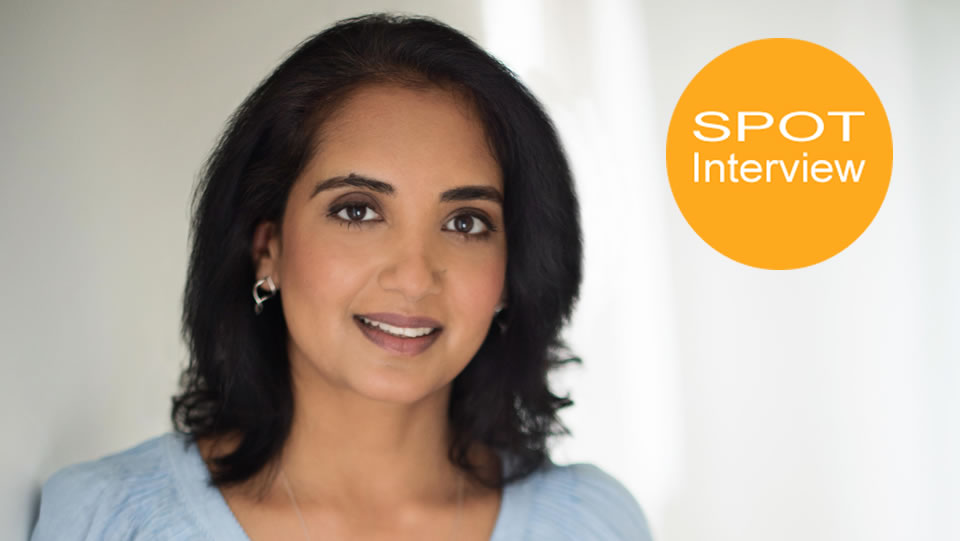 Spot interview with Avni Trivedi

Avni Trivedi
Osteopath & Zero Balancer
Conscious wellness in a Modern World
@avnitouch
www.avni-touch.com
07961 123 719
What motivated you to choose applications of osteopathy to the reproductive process, qualifying as a paediatric osteopath?
I've always been interested in health in a preventative and holistic sense. When you're treating a baby or small child, you're working with their full potential, rather than just fixing issues when things have gone wrong. Treating babies requires a lot of deep listening, because they aren't verbally telling you what's going on. It also requires heightened palpatory skills, as their bodies are much more fluid than adults are. And the mother-baby dyad is endlessly fascinating to me. When you treat one, you influence the other. A baby that is more settled after treatment enables the parents to breathe deeper and feel more relaxed.
When learning about treating during pregnancy, I felt very limited by what I was told I could and couldn't do. It felt to me as if there was a lot of fear around treating at a time that I believe is sacred and yet a regular, natural stage of life. I sought out teachers who helped me to be confident to treat in the first trimester and 'complicated' cases such as gestational diabetes, twins or breech presentation. I'm focused on the woman at the centre of her experience, rather than reduced to a list of medical labels and diagnoses.
I had a wonderful experience working as a newly qualified osteopath within a complementary health centre, where women were supported with osteopathy, acupuncture, reflexology and hypnotherapy for fertility, pregnancy and postpartum. Being part of a team of like-minded colleagues felt like the fullest approach to physical, emotional and mental support.
We met at the Yoga for Maternity Professionals at the Whittington Hospital in London, you were already a doula at the time, as well as editing a journal for doulas. What did you know about Birthlight? what was your impression of the training course?
I knew of Birthlight as an international organisation and felt aligned to the values. I'd heard about Francoise and am always drawn to teachers who have a sharp intellect and work in an integrated way with the body and emotions. I've always enjoyed the intersection of different modalities and approaches such as yoga, dance, bodywork and spirituality.
The course was powerful, experiential and inspirational. I loved being in circle alongside so many professionals, developing deep trust. It didn't matter about the professional titles: it was a warm and welcoming space for all. And developing a common language and aligned vision even though we each have different areas of expertise felt simple and a model for what maternity care can be like. I think it's important for practitioners to have had that experience of safety and calm in order to pass it on to their clients. I remember a pregnant senior house officer coming to join us as a model for a practical session. Day to day, she would have been witnessing emergency situations and the session was palpable in the way that she was guided to be in calm and relaxed in her body. Her whole demeanour changed in moments. It felt important, not only because she was pregnant, but so that birth professionals can work through traumatic situations that they encounter.
You have so many strings to your professional bow, Avni. Can you say a few words about your trajectory from being an osteopath working with pregnant women and with babies to a much more integrated style of practice?
In some ways I've followed my curiosity and passions. I've also pursued further trainings when I've felt that the tools I had weren't enough. For example, I was already studying for a MSc in paediatric osteopathy and learning the importance of the birth story. It made me question why so many of the babies we treated had had difficult births after what seemed like straightforward pregnancies. I decided to become a birth doula after that. Non-linear movement is a simple but deep tool that I can teach women to release stress, emotions and tension, e.g during IVF treatment, pregnancy, and dealing with breastfeeding challenges. I use that approach a lot working with clients who have experienced loss, such as miscarriage or a breakup. I've been curious about ways that people can learn to ground, relax and process when they aren't in the treatment room.
Recently I've completed a women's health coaching certification based on functional medicine and I plan to integrate that approach to help clients change behaviour to improve their health, especially for menstrual issues such as painful periods or menopausal symptoms. Like doulaing, it's all about trusting that the woman knows what's best for her and giving her space to express it.


Do you still see touch as something that is at the core of this integrated practice or has non-linear movement, that you teach taken more importance in your work recently? How would you describe your perception of merging East and West in your work?
I see touch as something that's so fundamental, especially because it's our first sense and how we learn to explore the world around us. Much as I respect the skills it takes to develop as a practitioner, I'm increasingly interested in touch as self-connection and family bonding rather than something that is reserved for the practitioner-client dynamic. When you love someone, touch is an effortless way of being connected to them. Touch is something that should be part of our everyday self-care, such as a hand on the belly to feel settled, massaging the jaw to relieve stress or the feet to prepare for a good night's sleep. With the distraction of screens it's even more important to promote touch to keep the connection within couples and families, especially in simple ways such as hand-holding and hugs. We spend too much time using our visual sense, when our felt senses have so much wisdom to offer.
Non-Linear Movement is something I use to 'unwind' the stories I'm told and the things I feel in the treatment room. I've worked 1:1 as an osteopath, but non-linear enables me to hold space for groups, and community is so needed right now in the world. There's a common thread between touch and movement in that they both enable us to be affected deeply. It's that depth of engagement and receptivity that I enjoy engaging with.
Your mission statement is 'wellness with ease', can you say something about this?
I subscribe to a slower, gentler approach to healthcare. The firefighting method of treating doesn't appeal to me, because you're only ever getting people unstuck and out of pain, rather than addressing and healing from the root cause of issues or preventing them from happening entirely. I'm a big fan of the tiny actions that people take each day to connect with themselves. pushing doesn't help. And moving with ease with the natural cycles of the day, menses and seasons rather than pushing or working too hard feels like an important aspect of woman-centred care as we are cyclical.
One of the main drawbacks of the western-style -now global- maternity care is fragmentation and the lack of a real therapeutic relationship between women and care teams. How do you address this in your work by focusing on a 'therapeutic bond' through pregnancy and beyond?
It's so difficult for maternity professionals and the women they serve as there's a lack of continuity of care. I'm lucky that there's a natural intimacy that comes from being hands-on and having time to talk and listen to clients. It's more of a dance than the practitioner 'doing something' to the client. The therapeutic bond is vital because you can't work in connection with people without being affected by the situation, be it a difficult birth story or the devastation of baby loss. As a practitioner you need to know how your presence influences your clients. Being more grounded and present enables you to hold space and in turn helps clients to tune inwards and connect with themselves and their baby. The heart-centred aspect of care isn't talked about in the current climate in maternity care.
Thank you so much, with love from all of us at Birthlight.