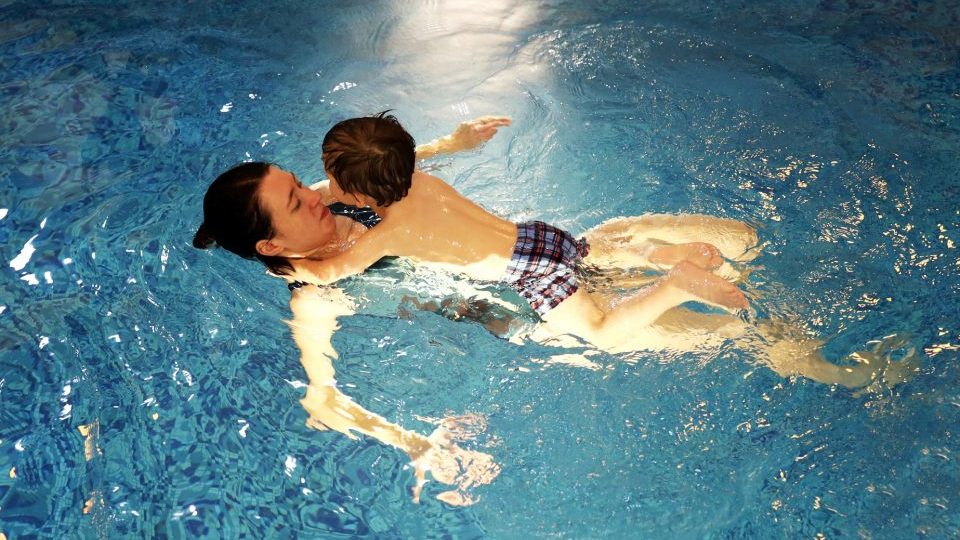 Are you thinking about training to be a Baby Swimming instructor or sending staff from your swim school to upgrade skills? Here are 5 reasons why you should go to Birthlight

After enjoying having my four children swim like fishes before their fourth birthdays, each in their different styles, as a former swimming instructor and competition swimmer, I wanted to share my passion with other parents and swimming instructors. Our pioneering program based in Cambridge, England soon grew national and international. Birthlight caught the attention of a publisher and my book Water Babies was translated in 12 languages. In 2003, we originated the training manual for STA, with the first national accredited teaching qualification in the UK for parents with their babies and toddlers in the water
Birthlight now has a set of great trainers, from different parts of the world. Together, we continue to develop and upgrade our program in the light of the latest research and based on our evolving experience. Now a grandmother, I have gone back to the drawing board while accompanying my grand-daughter, now 31/2, all the way to swimming unaided. Over the last two decades, I have fully enjoyed watching our original practices become mainstream in the 'baby swimming' world and experiencing our evolution from guiding infants in water to a fully child-led practice. A gentle, respectful and playful way extols the best outcomes in little ones' confidence and development: it's tried and tested, all winners and no losers. Little did I know that the inspiration I received from Amazonian rainforest people with my first baby would spread so wide. By promoting a carefree connection in water, we address a crucial parenting need in our global urbanised lifestyle.
If you want to embrace the power of "gentle" with babies in water without losing sight of swimming competence, here are 5 reasons for training with Birthlight
1) We are one of the earliest pioneering methods of baby swimming and yet we remain cutting edge innovators with unchanging core values.
Since the 1980s we have conveyed the concept that parents did not have to 'teach their babies and small children to swim' but use the properties of the water for playful movements leading naturally to swimming. Working with early reflexes and following their timely integration as autonomous movement develops is most rewarding in a developmental perspective. Ever since we started adapting interactive games to developmental phases as experienced by all babies but also uniquely by each baby, we have reached a better understanding of what's possible and how to achieve it with each parent and baby/toddler pair. We observe, share, read research and discuss it to create ever better approaches to even the simplest of movements that can give little ones confidence and happiness in water. This matters for a life time.
2) We have created a unique repertoire of holds and parent/baby interactive moves for various age groups and abilities.
Instead of teaching a one for all set of practices, we differentiate the needs of newborns, young babies under 4 months, 5-10 months old pre-walkers, water confident toddlers and beginner toddlers, and so on all the way to pre-school. What are the activities that you can only do if a parent/baby pair responds in this or that way now? We cover all angles because we have such a variety of practices. Consider supporting non-swimming parents who are petrified but wish to overcome their fear of water for the sake of their infants? Beautiful. Our practices can flow into one another when progression is invited. They are not a static list but focus on the pleasure of movement in water. There's no such thing as infants who do not want to be in water, only pleasure that's not been released yet. Variations and sequences, some with buoyancy aids, some without, create endless fun and enriched communication through weeks, months and years of enjoyable shared sessions.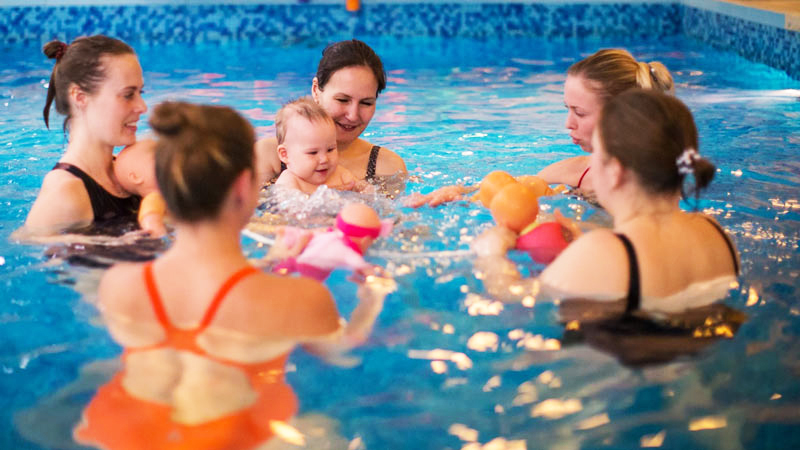 3) We value and care for each new Birthlight instructor, with an understanding of their operating culture and milieu
Our training courses are intense in many ways with a lot of information and a lot of pool practice, ideally with visiting babies rather than just with training water dolls. We have high quality standards and we believe that to be excellent instructors you need to be mentored as you implement the training in your first teachings in the form of case-studies. For us, seeing your record forms or videos of your teaching is the last but important step of your training assessment, when we confirm that you are fit to be a Birthlight instructor. And if that means taking a little extra time and writing about your teaching over the recommended word count, please do it! After all, the mere act of evaluating your performance unlocks your power of observation that is then transmitted to all the parents you attend to in water. Whether parents can't swim or are Olympic swimmers, Birthlight creates a culture of "water parenting" that cuts across all divides of race, class and culture worldwide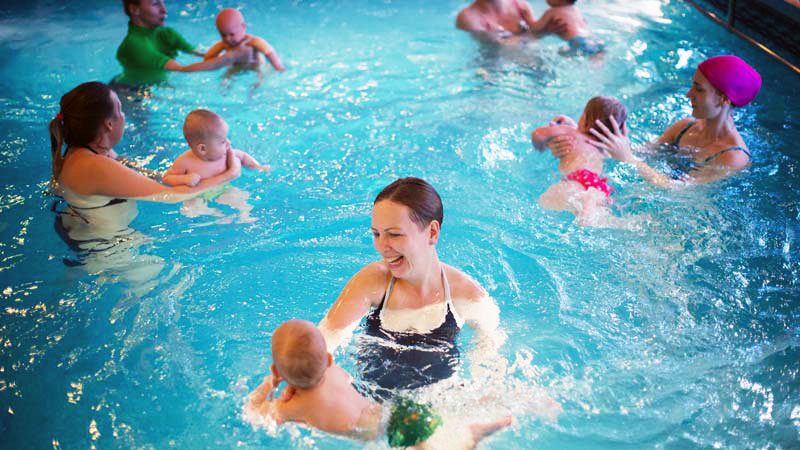 4) Our focus is on the joint experience of parent and infants in water
Imagine that in the water, parents and babies fall in love with one another. They do. If you map out your classes with this at the forefront of your mind, the magic will quickly set in. This is your Birthlight perk, that many imitators have tried to bottle up but never quite grasp it unless they train with us. We pass "it" on in our contact hours of teaching in the pool, which are more extensive than in most other programs (two daily pool sessions). We encourage you to take time to journal on questions such as, "What new skills do I want to introduce while this parent/infant pair is apparently making no progress on a developing plateau?" and "How can I encourage and incentivise a baby-led approach with a headstrong parent keen on water survival skills?" Well, there is a place for these too, as they save lives, but babies and parents can learn them together.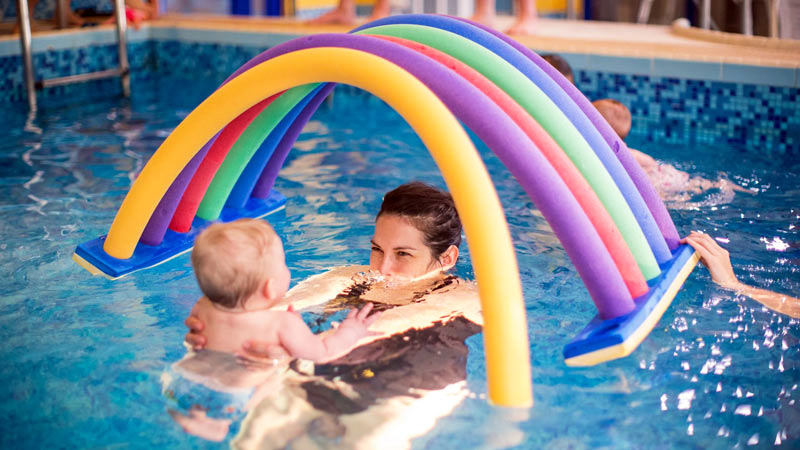 5) And finally… everything we do is science-based and translates research into developmental practices, but our playful parent-baby groups make it all seamless, easy and accessible
In today's world new parents do not know very much at all about their babies and often misunderstand their behaviour. Being in the water together is a great opportunity to discover babies' amazing abilities and to learn new parenting skills. You, as a trainee instructor, will gain the knowledge that you will impart to parents in a practical way in the pool. Few words: the practice does it… but you will understand the "how" and "why" and gain the ability to explain it if need be. It's the time to remind new parents that their infants are there to be enjoyed. Neuroscience has given us a better understanding of how each exchange of smiles or laughter works a treat for creating new brain cells and extending dendrites in infants' fast-growing nervous systems. Delete inherited ideas about babies and parenting. Our Birthlight theory modules are specifically adapted for swimming instructors with little time to spare but they impart a lot of carefully collected relevant knowledge. Lots of topics to geek out about, but always related to making your classes more fun and effective.
Françoise Barbira Freedman
Birthlight Founder/Director
Françoise received the prestigious Virginia Hunt Award in 2009 (World Aquatic Baby Children Association)