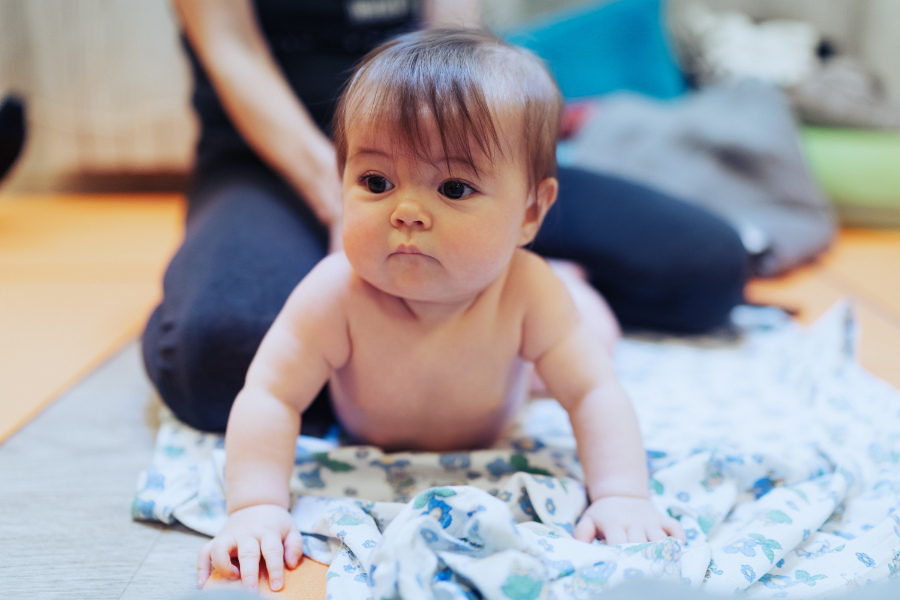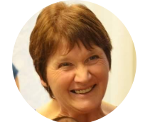 Liz Doherty
Birthlight Pioneer
As co-grandmothers, Liz and I started our conversation talking about our grandchildren. Liz has three, from baby to pre-school age. She has been very much involved in her two daughters' pregnancies and with the babies from birth onwards. She looks after them two days a week and is now about to resume swimming with them. Interweaving professional and personal dimensions of life with a fresh, hands on approach, is very much part of who Liz is.
Looking for avenues to a more holistic healthcare after training and working as a nurse and midwife in the NHS in Northern Ireland, Liz trained in reflexology and massage. It was inevitable that Liz would want to turn to baby massage. As part of her midwifery, in her neonatal paediatric training in Glasgow in 1975, she had loved working with premature and small babies with compassionate care: "When I think back to this time, to the still frequent neonatal deaths, how precious these little babies were!" But professionally massaging babies did not sit well with Liz, who has always seen parents as the experts with their babies "it was not my place to massage babies". The IAIM training (International Association of Infant Massage) corresponded better to her views about teaching parents. In 2003, Liz followed on from Baby Massage with Birthlight Baby Yoga, supported by the founder of IAIM. She describes 'falling in love' with the integrated practices she could 'see-feel' in action in our then multiple simultaneous residential trainings at Riddlesworth Hall.
Coming from a midwifery background, Liz saw the potential of Birthlight yoga as a set of practices that could be imparted by maternity professionals within their profession (not as 'yoga teachers') to ALL women, from all levels of fitness, backgrounds and walks of life, to enhance maternity care. She the first pregnancy yoga training for midwives in Strabane with emotion. With the Birthlight motto that 'there is always a way', Chair Yoga for Maternity was pioneered in 2005.
Liz's daughter Joanne recently experienced the continuity of some of the moves in the prenatal hospital classes she attended, but sadly there was no longer time for the long relaxations that singled out our practice earlier on.
Liz sees the support and relaxation that can be offered through pregnancy yoga as most needed by today's pregnant women and new families as work pressure on young women has intensified: "women need so much support in the world. It's when they are pregnant that they realise this. What I like about the birthlight yoga is that we can help everybody. Yoga is about SHARING". "If I were to start again from scratch, I would go for pregnancy yoga and aquanatal yoga, to support the beginnings".
But then, she hesitates, thinking of her love of sharing the Birthlight approach to baby baths and baby swimming "I loved all the work, the massage with the tiny babies, Baby Yoga, but my heart would lead me to early introduction of babies to water."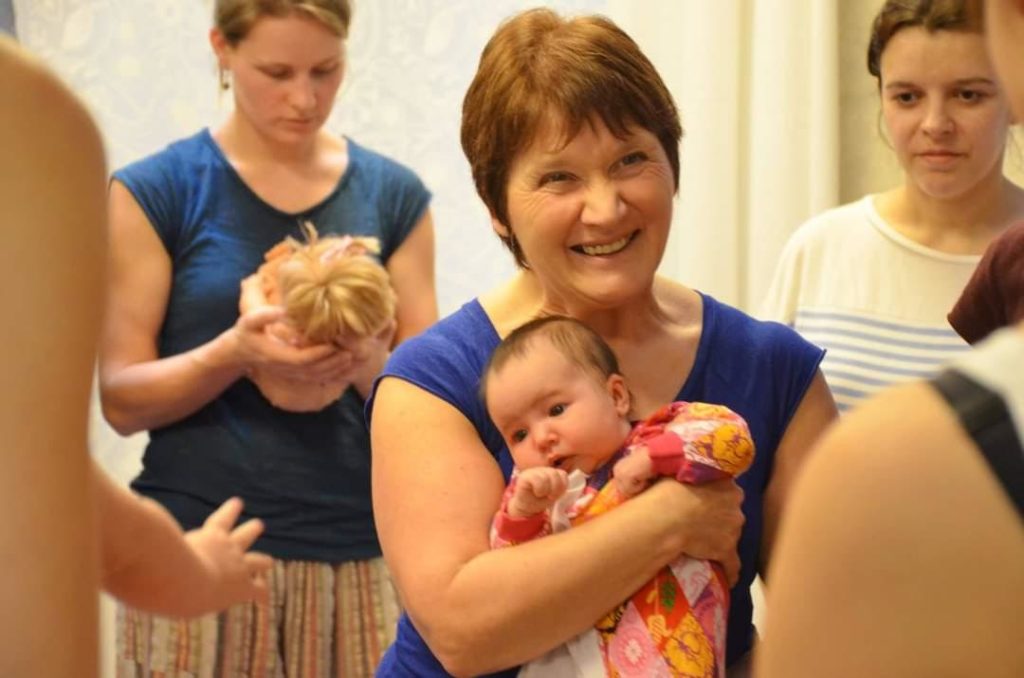 As a Birthlight …
….training tutor, Liz ventured to other parts of the world. Her teaching in Russia led her to overcome obstacles in local attitudes of doing physical exercise with babies. Soon Liz's groups took to the parent-baby gentle interactive moves of Birthlight baby yoga, and the word spread. Photos speak for themselves. Yet Liz gives all credit to Anna Shkulanova, our course organiser in Moscow, for setting a tone of nurture and friendship that supported the trainings at the BrightFamily-Birthlight centre even within a crowded space. For Liz, making friends at all levels, with parents, teachers and other tutors in the countries where she went is a highlight in her tutoring years. "We still communicate. After welcoming us with caution, they opened arms. Parenting was embraced at all levels and lives were transformed, women like Anna and Judy (Kou) left high-power jobs to work with us".
What about Covid? 'lockdown babies' are finding it hard to leave their parents after the lockdown. 4 important months of development have been shaped by lockdown, babies missed out by not going out and mixing with babies at the same stage'. Liz offered a few 'little classes' by Zoom to family and friends during the lockdown. She did not enjoy the Zoom sessions ("I am a tactile person") but 'they were loving it'. After classes, her niece opened a Zoom coffee meeting for the women in the class and it got them through those three months'. The challenge was not to be able to see exactly what was happening, and some women withdrew when their babies cried during joint relaxation. This would not happen in a face to face class, "I felt quite sad about that". As Liz expressed her compassion, I remember her often offering the reminder that "it'll pass…".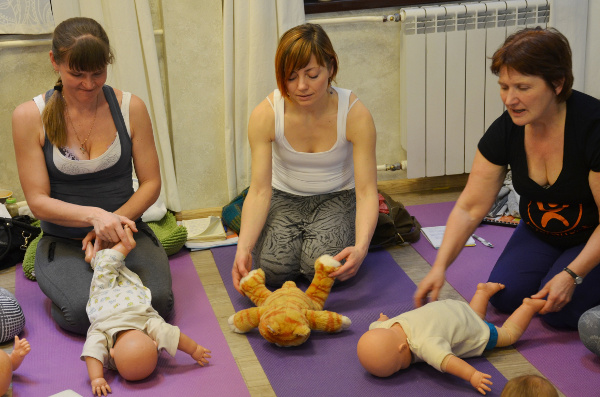 Liz clearly benefits
… those close to her with her hands-on teaching in retirement. "I love my professional practice, I miss it". We all miss her too. Yet she conveys to the young parents in her circle, 'the clever parents who google everything', a wisdom that has benefitted so many of her Birthlight students: 'let go of what you think should be done'; 'reviewing ideas' is always possible. 'Every day is a learning day'; 'Parents know best'.
We ended our chat with the memory of the legacy training weekend that Liz generously organised in beautiful Donegal for the benefit of other Birthlight tutors before she retired. Liz has touched so many hearts. When she joined Birthlight she was drawn to a hands-on support of parenting that could be adapted to everyone. The 'circles of friendship' that she has created all over the world are a precious legacy, true to Birthlight's vision.
~ Interview with Françoise (October 2020)