Is it fair to say that my WW Yoga training has changed my life? I'm not someone prone to emotional outbursts, but in this case, the answer is most definitely YES!
I first met Françoise in 2007 when I was pregnant with my 2nd son – I was part way through a 200hr Yoga teacher training programme when I found out I was pregnant. I didn't want to put a hold on my yoga studies so enrolled on the Birthlight Pregnancy Yoga course. The walks, rolls, breathing practices and companionship helped me immensely through that pregnancy, but life then took on its own journey and I moved away from this way of practicing.
More than 10 years later, now as a practicing teacher and osteopath with my own clinic, I took a one-day workshop with Francoise, and something ignited. I joined the Well Woman training in London in 2019. Here I found a group of bright, engaging women and as we studied over 2 modules, we explored the wonderous practices of WWY together, opening up with stories of our journeys in life, love, loss and more.
Not an Obvious Well Woman Teacher?
I'm perhaps not an obvious WW teacher. My nature is strongly 'pitta' – hot, fiery, competitive – and I was brought up to work hard, take on a challenge and to strive, drive, succeed. Throughout my life I have found myself surrounded by men – from my first degree at an engineering-focused University with a group of male friends, to 16 years working in 'peak macho' culture in the City of London. As a mother, I've birthed 2 sons (now 17 and 13) and I've always been comfortable with a life of rough, tumble and testosterone.
But over recent years (I'm now 49), I've recognised a deep and long-standing desire to be 'softer' – to encourage the feminine, to be more approachable, to deepen female friendships – and to acknowledge & nourish the deep strength that lies in womanhood. Francoise encourages openness in training and practice, and through studying, exploring and teaching WWY, I have embarked on a journey of self-discovery.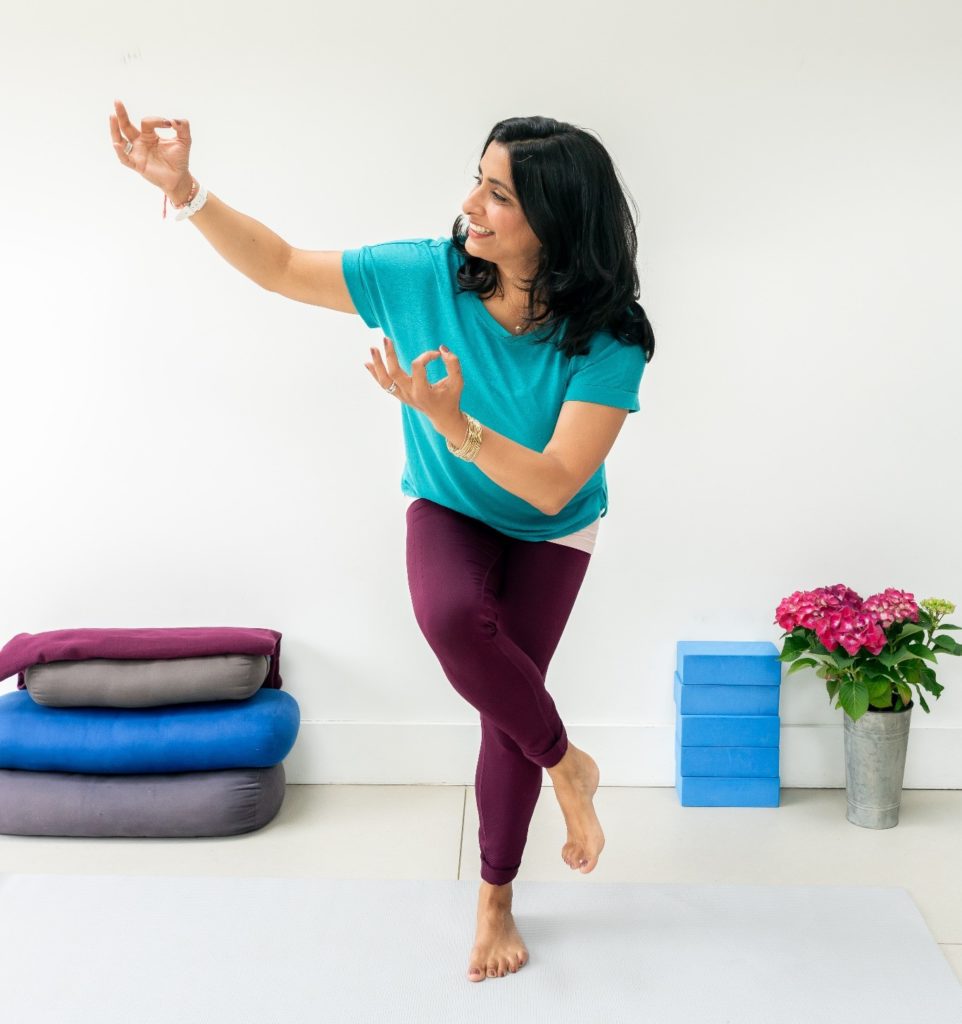 Like all Birthlight courses, there is deep knowledge and wisdom wrapped in these caring practices. WWY can be engaged with at many levels – anatomical, philosophical or esoteric – but there is real rigour in the teaching. The coursework is demanding, but this was instrumental in my exploration of the work and how it can be implemented as teacher for the wellbeing of my students – and I've seen remarkable results. But more importantly, as a yoga student myself, lots has shifted.
How Have I Changed Practically?
Change as a Person
18 months after starting the course, my long (20 year!) history of gynaecological problems caught up with me and I needed a hysterectomy. The practices of WWY under Francoise's guidance (from micromovements to mudra, from affirmations to asana) have supported me as much as the surgeons' steady hand. From prehab strengthening to post-operative nourishment, I have personally experienced the power of WWY. It has held and accompanied me from one phase of womanhood (Anji with a womb!) to another – into the foothills (I hope) of wise-womanhood.
There are other manifestations of change – I wear a LOT of bright colours these days (even pink!); LOADS of amazing female friends have found their way into my life and I've celebrated, valued and nourished these friendships more than ever; my relationships with my female relatives have also benefitted – I'm less challenging, more accepting, more open hearted than before.
Change as a Teacher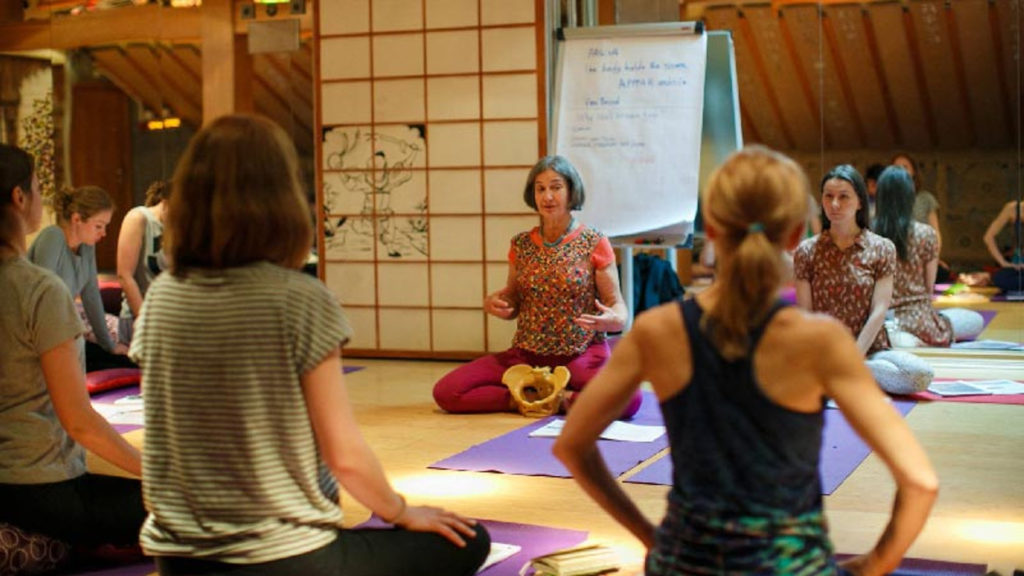 As a yoga student and teacher – change here too. My yoga practice is now more 'round' rather than 'straight' which, it turns out, actually suits my body and has helped me find better health in my body and mind.
As a teacher, I have been able to share the open and accepting practices of WWY with my students, who love them as much as I do, whether in a group or as a private lesson. I encourage using Yoga as a way of 'finding health' rather than causing strain, whether through resting, asana, breathing, reading or more. My regular group classes include women of all ages and stages, who revel in the sheer pleasure of having permission to move their bodies in the "way their bodies move", rather than a prescriptive 'one size fits all' structured practice. We have time to explore movement, to understand anatomy and develop an understanding of what works and what doesn't – for each of us. As an osteopath, working 1:1 with students in my clinic or online allows an individual therapeutic focus, to encourage vitality and improve health.
It's been remarkable to find this work and I know it will be a learning of a lifetime. I hope it gives you as much as it has to me.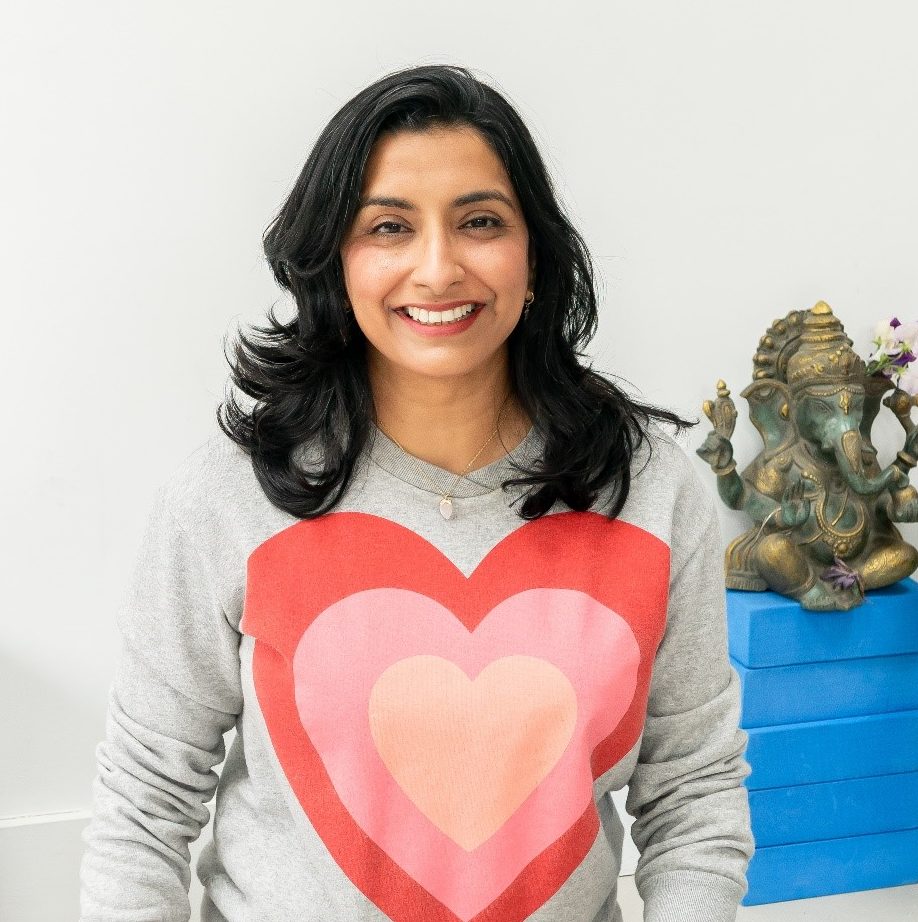 Anji Gopal
Osteopath, Yoga Teacher, Educator & BackCare Specialist
Anji Gopal is an Osteopath, Yoga Teacher, Educator & BackCare Specialist. She runs the BWY Module 'Yoga for BackCare); runs an innovative programme at an NHS hospital for Persistent Low Back Pain patients; teaches applied anatomy on the Triyoga teacher training programme and teaches weekly Well Woman and Yoga for BackCare classes.
Anji's Well Woman Yoga classes start at TriYoga Ealing in studio and online on Friday 10th September 11.15am.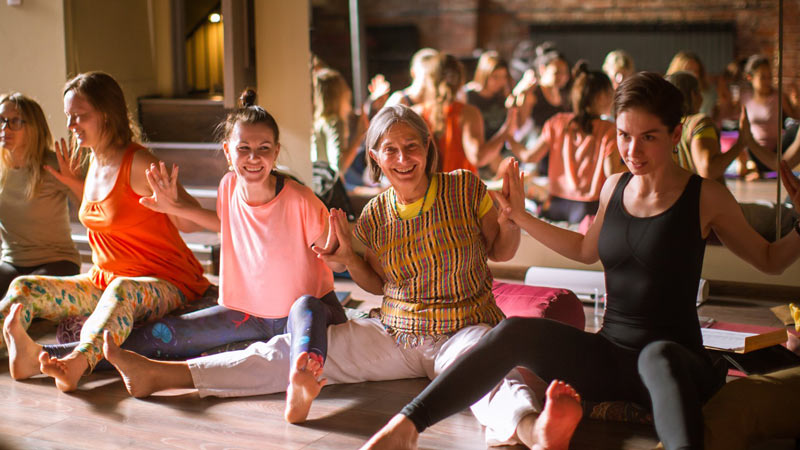 Birthlight Well Woman Yoga
Well Woman Yoga Diploma – 3 Modules