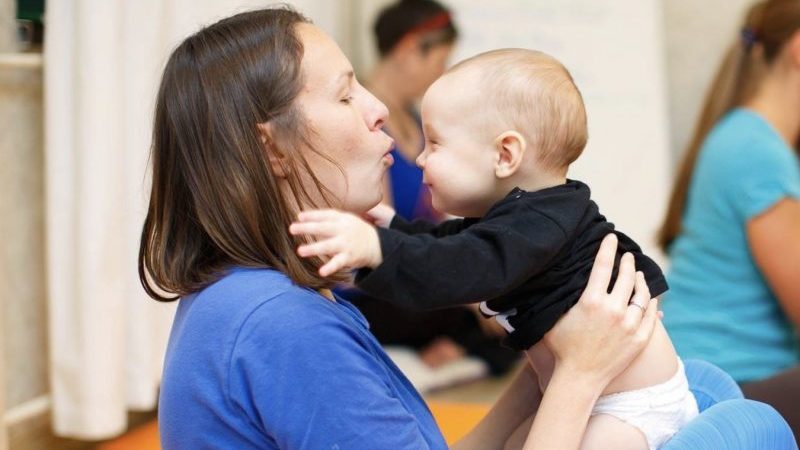 NURTURING BABY MASSAGE AND BABY YOGA
This new intensive training blends Nurturing Baby Massage, Baby Yoga and Interactive Yoga with babies for postnatal mothers, fathers, other parents or carers.
This course and the supporting resources will enable you to create a professional range of enjoyable sessions of Nurturing Baby Massage and Baby Yoga for families with babies from 4 weeks to pre-mobile, which can be adapted to suit your families' and groups' needs or individual pairs.
We integrate theory with practice, in line with the ever-growing scientific research and evidence surrounding babies' physical, mental and emotional development. For over three decades Birthlight has pioneered practices that create powerful connections between the baby and the mother/parent/carer, allowing deep-rooted evolutionary mechanisms to surface and function. As babies and parents are supported in their development and understanding through attending these sessions, powerful connections go beyond the bonding and attachment process as the foundations of well-being and self-confidence flourish while the Birthlight Spirals of Joy expand.
Nurturing Baby Massage
One of Birthlight's earliest friends, Frederick Leboyer, introduced Baby Massage to the world and our Birthlight Nurturing Baby Massage remains sympathetic to his original Loving Hands approach with our beautiful flowing sequences.
Full baby massage programme for creating dedicated classes
Baby massage strokes with oil or 'dry' massage over clothing
Birthlight Baby Mini-moves
Simple yet effective techniques to support early, essential attachment and bonding
Integrated colic-easing routine
Infant cognitive and emotional development including states and cues
Readily adaptable practices for babies in special situations such as those in care, entering into adopted families, or those staying long periods in hospital
Baby Yoga
As the pioneers of Baby Yoga, many of the now mainstream moves that Birthlight originally created will shape the practice
Full programme for creating a dedicated Baby Yoga classes
Birthlight Baby Yoga moves suitable for pre-mobile babies
Techniques to give babies enjoyment of their developing abilities
Infant anatomical and physiological development
Comforting holds and walks
Joint parent-baby relaxation with mindful appreciation
Interactive Yoga
We draw on the essence of Yoga for techniques mutually beneficial to and engaging for the parent and baby pair.
Skills and knowledge to deliver harmonious Nurturing Baby Massage and Yoga classes.
How to lift, hold and carry baby confidently through each development stage
Yoga-based stretch and toning practices
Simple stress and tension reducing practices to help enter a space receptive to better understanding baby's needs and fostering joyful communication
Classic yoga-based breathing practices, hasta mudras (hand gestures) and sonic massage sound practices to foster mindful awareness
An overview of postnatal mother emotionally, physically and mentally with practical supportive techniques for common postnatal ailments

"Birthlight sides with Nurture as the embodied loving care that infants need to thrive. Moreover, infants are pro-active in eliciting this loving care. The better we understand and respond to their cues, the more rewarding, mutually nurturing and neuron firing our exchanges with them are."

F B Freedman
---