BIRTHLIGHT: YOGA TO NURTURE NEW LIFE
SATURDAY 8 – SUNDAY 9 JUNE, 2019
MOSCOW, RUSSIA
Birthlight is 10 years old in Russia!!! To celebrate this landmark our Russian partners and friends organised a spectacular two-day conference in Moscow with a focus on land-based practices for making birth an easier and supporting the transition to motherhood.
Birthlight tutor Belinda Staplehurst shares her thoughts on the conference:
This was Birthlight's first conference in Moscow! Huge thanks go to our Russian course organiser Anna Shkulanova whose amazing organisational skills and contacts enabled this conference to happen – all during her own postnatal recovery after the birth of her fourth child, beautiful daughter Daria.

Our thanks also go to everyone who participated so enthusiastically in this event, including Marina our chairwoman who valiantly kept us to time, and no less to Maria Romanova for her amazing and sensitive interpreting.

Our gratitude to all our speakers, many of them graduates of Birthlight training courses in Russia which have been running since 2008, as well as those who attended the conference. A special mention must be given to Olga Verba who has played a pivotal role in supporting the development of Birthlight yoga in Russia, and gave a beautiful presentation on those involved in their dissemination. Love and respect for Francoise and her teachings clearly flow in many Russian hearts and at Birthlight we feel humbled and honoured by this.

Our key foreign speaker was Kirsten Uvnas Moberg known to many for her world renowned work on oxytocin – and we were delighted that she stayed for the whole conference. Her comment to me after the conference was that there was a lot more to yoga than she had realised, so it seems that the learning went both ways!

The unifying theme of the conference was how to promote the continuum of wellbeing for mother and primal health for babies from conception through the four perinatal trimesters through to the early years after birth.

The sheer diversity of approaches and perspectives was one of the most fascinating aspects of this conference. There were contributions from a wide ranges of speakers including a focus on yoga, osteopathy, psychology, midwifery, doula support, infant and child development, kinesiology, folk music. This range of perspectives will no doubt stimulate a lot of thought and fresh outlook amongst those attending.

What follows is a short summary of just some of the key points of the presentations and a few brief words about the workshops– it's impossible to represent the full richness of the two days. If you missed it do make sure you attend future Birthlight conferences! The practices and perspectives of the huge range of speakers and workshops below do not necessarily represent the Birthlight approach – but all form the basis for healthy discussion and the development of beneficial practices which we hope that the conference will enable well into the future.

— Belinda Staplehurst (Birthlight Tutor, UK)
DAY 1 – SATURDAY 8 JUNE 2019
---
---
---
After birth both mother and baby's behaviour can be massively influenced by oxytocin (or its absence). Skin to skin contact immediately raises oxytocin levels of both mother and baby. Oxytocin is involved in the two-way bonding between mother and baby, for example helping to create pulsating warmth from the mother's chest to the baby in skin to skin contact which in turn triggers a warmth response in the newborn to create a rhythm of early communication between mother and baby. Breastfeeding also releases oxytocin, helping in turn to promote more bonding and creating thirst so that women can replace lost fluids.
Medical interventions during labour have significant implications for the release of oxytocin. There is no oxytocin release in elective caesarean births, and this will be true even if there is skin to skin contact after birth – unless the mother had received an oxytocin drip during birth. The normal pulses of oxytocin during early breastfeeding are also absent – these may come back with later breastfeeding.
In the case of epidural analgesia, the mother produces much less oxytocin than those who do not receive an epidural because the analgesia affects not just the fibres that relay pain but also those which mediate oxytocin. By blocking the pain the release of oxytocin is also blocked. Giving oxytocin together with an epidural is not a solution either as maternal oxytocin levels measured two days after birth are dramatically reduced.
The longer term consequences of increasing medicalisation of birth is still unknown but will in all likelihood impact on economy and society, which may in turn prompt a policy change for these practices.
For more detailed reading on Oxytocin, Kirsten's recent books can be consulted: The Hormone of Closeness and The Biological Guide to Motherhood – hopefully too soon available translated into Russian!
---
---
---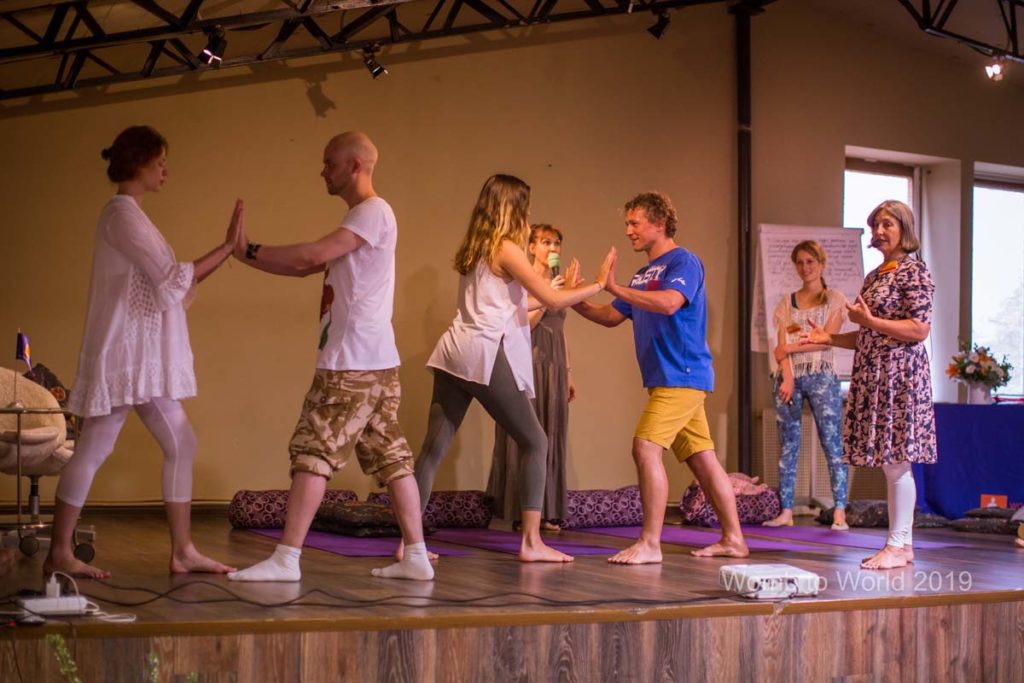 DAY 2 – SUNDAY 9 JUNE 2019
---
And thank you again to all you wonderful Russian women (and a few men) who made this conference possible. Большое спасибо!