This 2 day course was specially designed for the midwives at the Clinique Sagesse in Rennes, France, with its own programme and manual in French and delivered in French. The midwives had requested this course themselves and were self-funding, and therefore highly motivated to attend and see how they could use the practices.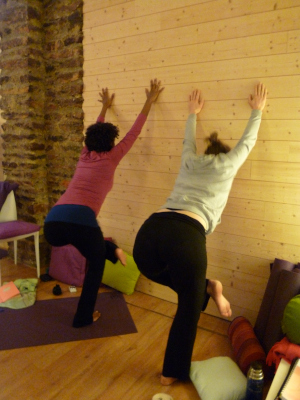 The course included:
Everyday transitions for pregnant women
Yoga moves to help encourage optimal fetal positioning
Stress and negative effects on birth hormones
Birthlight foundations to calm breath
Breathing practices for pregnancy, labour & birth and postnatal recovery
Relaxation practices and techniques for pregnant women
The importance of movement and changing positions in labour
Early Postnatal recovery practices
Easily accessible practices for self-care for busy professionals to incorporate into their day
Testimonies from the Midwives
The early postnatal practices we were shown were really great to learn!
I found it incredibly helpful to learn about the different practices for the different stages of labour and the whole idea of a labour circuit.
The practices with rebozos and balls were incredibly helpful as they were practical and easy to implement.
I appreciated the discussions surrounding self-care for both healthcare professionals and their clients.
I loved that we practised a range of relaxation techniques which I could put into practice.
I benefitted from the time dedicated to develop more awareness of my breath and body.
---