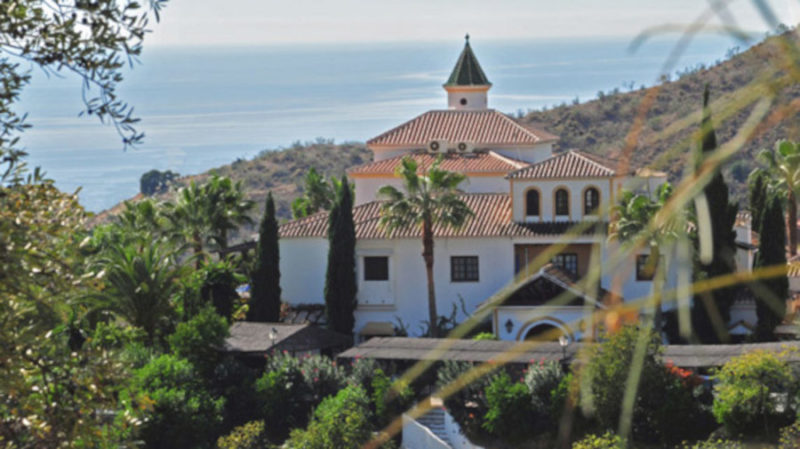 Saturday 16 October – Saturday 23rd October 2021 at Santillán, Málaga in Spain
Take advantage of an amazing opportunity to spend 6 days with Birthlight founder Françoise Freedman, for a combined retreat and 50 hours teacher training course in Well Woman Yoga offered in conjunction with the Yoga Academy. The course will be based at Centro Santillán, judged to be one of the '20 best Yoga retreats in the world!'. It is close to Málaga in Spain, but a haven of peace in the countryside with sea views.The programme will combine group classes and bespoke individual instruction. The intensive course will provide you with the key techniques to lead interactive yoga classes for women of all abilities and ages. The yoga taught on the course is a unique eclectic set of practices incorporating the principles of Yoga and Ayurveda in women's lives. By the end of the week, your awareness of how yoga can contribute to women's wellbeing will have transformed. Plus an opportunity each evening to participate in dedicated explorations of relaxation for yourself as well as for enriching your teaching.
Why We Need Well Woman
Women transform through life in cycles. The reproductive cycle, from the onset of menstruation, to childbirth and the menopause, changes bodies and psyches. Yoga can help women to make the most of their life transitions when practice is wisely adjusted to support the spirals of growth that each gateway opens. Each new stage offers opportunities to heal new or old patterns and face current challenges, with an expanded loving connection to themselves and others. Yoga supports personal evolution. Well Woman Yoga does so in a way focused on women. At any phase or age in these cycles and spirals and at times of personal challenge, yoga can bring an unprecedented state of vitality and Wellness.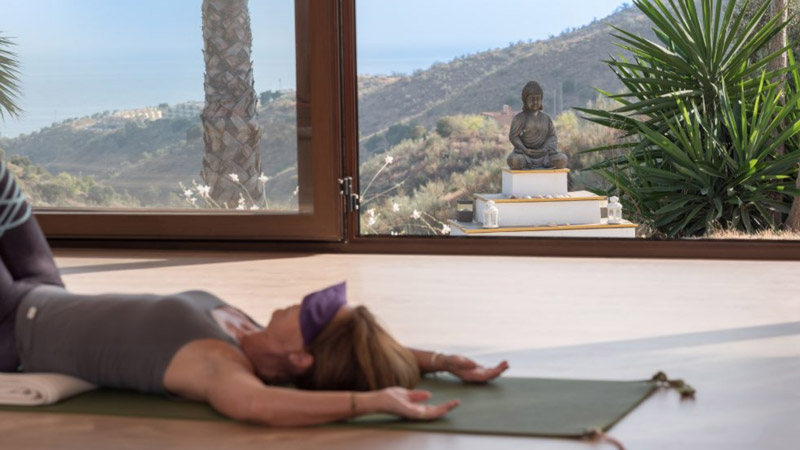 Well Woman Yoga is open to interested yoga teachers, both men and women.
Here are 5 reasons for teaching Well Woman Yoga in your community:
Most yoga practitioners are women, whose needs to transform their practice at times of life transitions are not met, or not met enough…
The increasing medicalisation of the reproductive cycle, from adolescence to motherhood (or not) and menopause creates fragmentation and alienates women from their "selves".
"The body keeps the score' (Bessel Van der Kolk). Gentle yoga can be powerful in unravelling the impact of past experiences that may causing repeat patterns that do not support wellbeing
Women love yoga taught in "circles of friends" with connection
Well Woman Yoga practices are accessible to ALL women, from all walks of life and all levels of fitness, from micro-movements in bed or on chairs to intelligent progressions tailored for advanced yoga practitioners and dancers. Increased opportunities for actual interaction across ages and stages are invariably positive.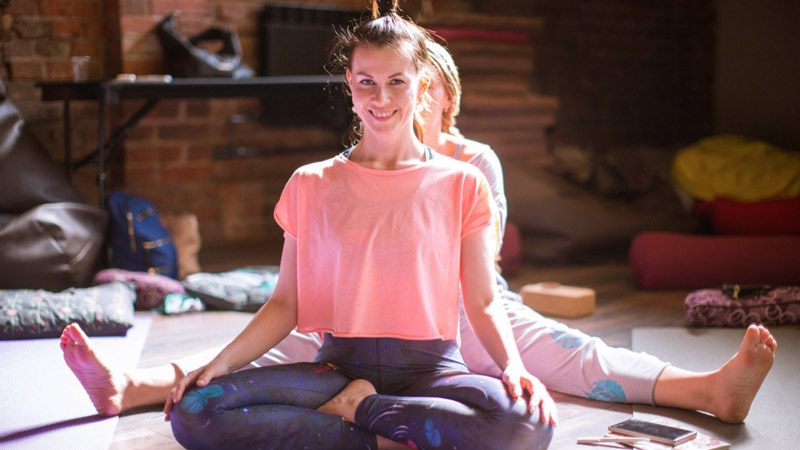 Well Woman Yoga is not a new brand of yoga that excludes other styles of practice. It is an invitation to interweave gentle, subtle and interactive ways of teaching into your current style of teaching. Equally it often also opens up new dimensions and subtleties that may take you in new directions in your own practice and in your teaching.
Birthlight Well Woman yoga training will equip you with:
Fresh insights into anatomy and physiology, so you understand and can communicate how neuro-endocrinology links ancient texts of Yoga/Ayurveda with new research on women's health using selected visual aids and tips to "see" somatic patterns
An extensive 'repertoire' of adaptations, modifications and progressive sequences developed over many years of teaching yoga to women of all ages (Asana with flow variations, pranayama, mudra, nada)
Clear teaching points and contraindications aligned with evidence-based research
Restorative and dynamic sequences to ease breath and movement for all women.
The experience to sensitively explore the power of safe and caring touch in interactive yoga practice in your classes (pairs, small groups and circles)
Ideas of how to orchestrate your classes (or one to one sessions) to cover the whole palette of emotions women bring, using yoga to create positive awareness without words
Ways in which to develop your own yoga practice with new levels of self-understanding, compassion and enjoyment of life.
Well Woman Yoga qualification
This retreat course is equivalent to Well Woman Yoga Part 1 (principles and applications of yoga for women's health and wellbeing) and Part 2 (focus on the pre-peri and post menopause stages). If you wish to gain the Well Woman Yoga qualification you will need to complete coursework consisting of two case studies (group OR one to one), a worksheet, a DVD/Book review and a home-study report.
The training can be taken further later to gain the full accredited Well Woman Yoga Diploma (Yoga Alliance Professionals). Further details>
Course tutor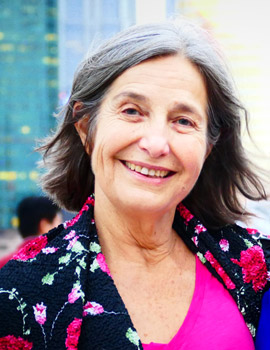 Retreat tutor, Françoise Freedman, a known pioneer of pregnancy and postnatal yoga, developed Well Woman Yoga in response to the needs of women who were not comfortable to return to their yoga practice after childbirth complications or when facing other reproductive challenges. The course was first offered as a module of the Yoga Therapy Diploma at the Yoga Biomedical Trust, London, before expanding into a Diploma course accredited with Yoga Alliance Professionals (50 hours).
Françoise brings her experience as a medical anthropologist (Cambridge University) and her life-time work as a yoga teacher/trainer and therapist together to make this course unique as a contribution to promote support for integrated health in the community with yoga. She is the founder of Birthlight, a UK charity aiming to support wellness before, during and after childbirth.
Françoise enjoys sharing her yoga expertise with students and members of the Yoga Academy, to which she has contributed workshops on yoga for pelvic health. Her yoga and training style are in synergy with and complementary to Simon Low's teachings.
Françoise will be assisted by Kirsteen Ruffell, senior tutor and Birthlight Training Coordinator.
Idyllic course venue
Set in a secluded location, Santillán is an Andalusian paradise, ideally suited for the Well Woman Yoga retreat course. It's located in the countryside, surrounded by the silence of the mountain and with wonderful sea views.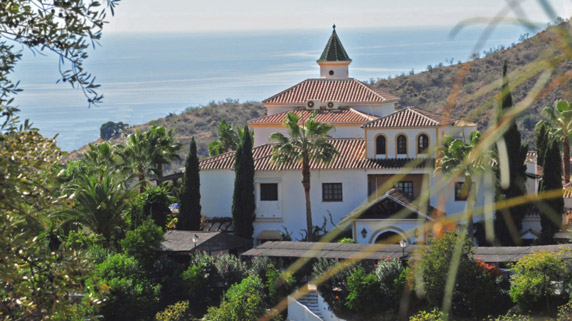 A farm of 30,000 sq meters, it is located in the peace of the Spanish countryside, and yet is conveniently only 20 minutes from Málaga airport.
The family atmosphere, the delicacy of service, gardens, small corners and interior spaces make it an ideal venue for yoga, retreats or explore meditation, deepening silence and stillness space.
Santillán is located in Rincón de la Victoria, 20 kilometers from the center of the capital of the Costa del Sol, Málaga. It is nestled in a hill overlooking the Mediterranean Sea. It is only 25 km away from Málaga´s airport and the train station (RENFE) and Bus are 24 km away. Approx. €55 taxi transfer each way shared wherever possible with other participants. This is a super venue as noted in The Telegraph, The Times and The Guardian: