Description
Train to offer Aqua Yoga classes and therapeutic sessions specifically aimed at supporting, enhancing and vitalising women's physical and mental health and wellbeing in the unique and accessible medium of water.
2023 Training Course dates:
11 & 12th October live online 5-8pm UK (time tbc) and
30 October- 5 November 6 nights/5 full days Residential in Italy (see photo gallery top of this page)
What is special about the combination of water and yoga for women?
Moving, breathing and relaxing in water amplify known benefits of yoga such as maintaining and improving flexibility, optimising breath and cardiac rhythms, neutralising the harmful effects of stress and anxiety and more. Rather than the simple transfer of poses into water, Birthlight's Aqua Yoga uses all the properties of water to adapt yoga poses in versatile practices done standing or floating, with breath awareness and relaxed stretching. 
Differences in physical make-up between women and men affect buoyancy, body balance and weight distribution around the pelvis and thighs in water. Our therapeutic Aqua Yoga is informed by the latest research on women's anatomy and physiology and new findings about water and its properties. 
Well Woman Aqua Yoga is designed to benefit all women, irrespective of age, fitness, health status and previous experience with yoga and/or water.
Water has long been a healing medium that helps release both physical and mental pain, facilitating a different connection with our bodies, both energising and calming. With freedom to move in water comes self-confidence, calmness of mind and a greater ability to face the rigours of daily life. Many Birthlight Aqua Yoga practitioners have reported significant improvements to acute and chronic conditions. 
Floating relaxation and meditation enhance land practices and deepen experiences of weightlessness and tension release. Immersion up to the shoulders and neck enables the full engagement of water's properties and is a foundation of Birthlight Aqua Yoga.
Aqua Yoga can benefit all women; from non-swimmers who develop confidence with supported practices close to the pool walls, to competition swimmers who discover the benefits of slow breathing and glides.
For women new to yoga, the rhythms of aquatic practice can lead directly to the essence of yoga as harmony with oneself and the world. Buoyancy takes weight off joints and eases practice for those who find land yoga challenging. Experienced practitioners enjoy different explorations of yoga poses in unexpected, fluid ways.
Course overview:
Introduction to Aqua Yoga for women's health and wellbeing

The Qualities of Water

Anatomy and physiology of Well Woman Aqua Yoga

Aqua Yoga adapted postures & variations for women. Aqua Breathing and Aqua Relaxation (integrated theory and practice)

Breath and movement in water, using buoyancy and resistance

Aqua Yoga therapeutic elements and sequences to promote hormonal balance, pelvic health, vital energy and core strength. Special applications for pre, peri and post menopause.

Sequencing Aqua Yoga practices in flow sessions

Therapeutic applications of Aqua Yoga

Pools & Use of equipment and props

Safety guidelines

Teaching methods for Well Woman Aqua Yoga. Preparation of class materials and case studies (groups and one to one)
The 40 hour Birthlight Well Woman Aqua Yoga course is accredited with Yoga Alliance Professionals as a postgraduate course for 200h yoga teachers. YAP Diploma holders can use the YAP teacher badge. Accreditation with IICT is in process.
This qualification entitles you to teach general Well Woman Aqua Yoga classes and Therapeutic Aqua Yoga for Women's health. If you would like to teach dedicated Aqua Yoga sessions for pregnant and postnatal women you will need to take additional training for these specific groups, see our Aquanatal training and contact the office for your discount.
Tutors: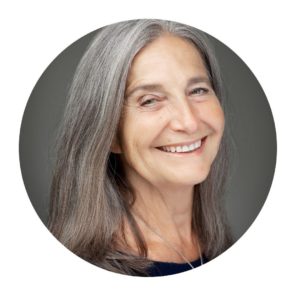 Françoise Freedman
Françoise, founder of Birthlight, originally developed Aqua Yoga in her youth as her personal practice, out of her twin passion for yoga and swimming. Pioneering classes and 1:1 sessions in the 1990's she has been developing this course ever since into the most comprehensive set of therapeutic adaptations of classic yoga practices in water. Aquanatal Yoga has been an integral part of her pioneering adaptations in Yoga for Pregnancy and Postnatal Recovery. She has extensive experience in making Aqua Yoga accessible to all women irrespective of age, fitness, previous experience of yoga and swimming competence.
For more information about Aqua Yoga read the article "Aqua Yoga" written by Françoise for "Yoga and Health" magazine.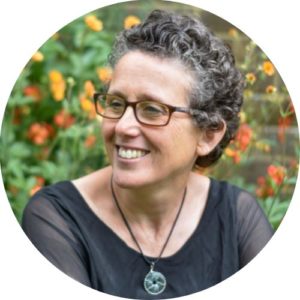 Katy Offer
Water has always been part of Katy's life. As a former competitive swimmer she has taught swimming for many years. After having her first child she started regular yoga classes and realised that there was a lot which connected the two disciplines. A chance conversation with Dr Francoise Freedman in 2008 showed her that Yoga in the water was possible, and so began her journey with Birthlight.
Having qualified with Birthlight to teach Aqua Yoga she found she loved Yoga so much that she qualified to teach Yoga in 2014. Yoga has taught her to focus on centring herself in the here and now and has expanded her understanding of the body and movement. She still finds it truly amazing how Yoga in the water allows you to practise a wide range of movements which are not always possible with Yoga on land, and loves the spiralling nature of the water on the body and the calmness found in floating. Aqua Yoga has taught her to feel how her body moves and how it benefits from those special subtle Birthlight Yoga sequences.
Katy Tutors Aqua Yoga for Pregnancy (Aquanatal yoga), Aqua Yoga for Health, and Well Woman Aqua Yoga. She also uses Aqua Yoga to teach children and adults, especially those with additional needs.
Location
The Residential part of the training takes place at the wonderful Sasseta Alta , an organic farm, training venue and aquatic centre built on an ancient site close to hot springs in west Tuscany, Italy (3km from the mediaeval perched village of Scansano). It is a place of beauty that integrates ecology, technology and artful design. The spacious yoga room looks out to the rolling hills and the spa quality warm indoor pool, designed for Watsu training, is ideal for Aqua Yoga and simple relaxation.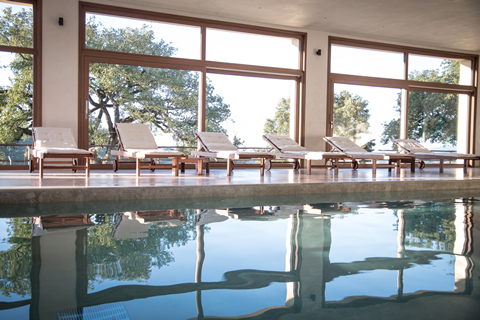 Accommodation All the accommodation is located within four beautifully renovated stone farmhouses in classic rural Tuscan Maremma style. Participants will be accommodated in twin or triple rooms. The property of 40 hectares, much of which is ancient woodland, provides guests with a range of paths for walks in nature. Every day the bio-restaurant prepares delicious natural organic meals, using produce from the farm in local traditional recipes. The warm and relaxed family atmosphere and the quality of personal attention make Sasseta Alta a very special place.
Price: Early bird by 1st August Birthlight member £1315, new member £1350.  After 1st August the price of the course is member £1365, new member £1400.
A combined Well Woman Yoga Land and Aqua package is available on Application please contact us.
*See T&Cs below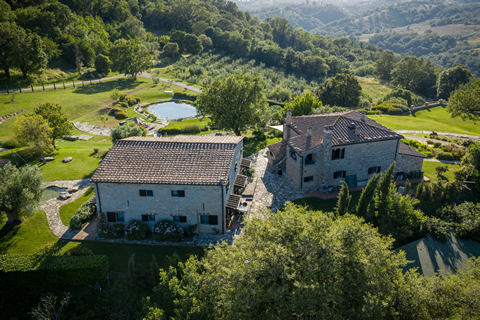 Payment options:
Payment by Paypal, card via Paypal, or bank transfer (contact us for bank transfer).

3 payments before the 1st September or 5 payments before 1st September using Birthlight Payment Plan. 

Or since we use Paypal you can use "Pay in 3 with Paypal" (provides a more flexible repayment plan – choose "pay in full" on this page and then when it takes you to Paypal setup the Pay-in-three then at Paypal.  Subject to Paypal approval)
Included:
40 hour Well Woman Aqua Yoga Training, manual and online training resources. Tutor support and full feedback on your coursework.

6 nights full board in shared room accommodation, in twin or triple rooms.

Optional pre-breakfast and 'creative' evening sessions

Residents' access to beautiful indoor swimming pool for individual practice

1 year's Birthlight membership giving you a discount on further training
Not included:
Transport

Drinks

Treatments by Sasseta Alta therapists (these can be booked directly on site during the course breaks)

excursions

Travel insurance
Maximum participants: 10
How to get there:
Fly to Pisa or Rome, then Train to Grosseto and arrange a pick up or bus to Scansano for pick up to Venue.
Train from Pisa or Rome to Grosseto, which is midway between Rome and Pisa. There are trains nearly hourly from either Rome or Pisa.
https://www.italiarail.com/italy-rail-map
https://www.rome2rio.com/map/Scansano/Grosseto#r/Bus
https://www.trenitalia.com/en.html
Train: London to Grosseto: and arrange a pick up or bus to Scansano, then pick up to Sasseta Alta.
Bus from Grosseto to Scansano For travel to Scansano the nearest village to the venue.
Scansano is 28.7 km (18.5 miles) away from the coastal town of Grosseto, up in the hills. There are 5 buses daily, none on Sunday, costing £2-4. The bus journey takes 49 minutes.
Taxi from Grosseto to Scansano: 30 minutes.
Taxi Pantini: +39 0564860233 or Taxi Costa d'Argento +39 3472554303
Sasseta Alta will arrange free pick up from Scansano
It is also possible to rent a car from Pisa airport.
Payment options:
Payment by Paypal, card via Paypal, or bank transfer.

3 payments before the 1st September

Pay in 3 with Paypal- pay with 3 instalments at any time, subject to Paypal approval.
Included:
6 nights full board in shared room accommodation, in twins or triples.

Daily Well Woman Yoga sessions, plus explorations into movement, sound, relaxation, visualisation, Ayurvedic self-massage, shamanic practices

Optional pre-breakfast and 'creative' evening sessions

For those opting for the Well Woman Yoga week the opportunity to try Well Woman Aqua Yoga in the warm pool (one active
session, one relaxation session)
For those opting for the Well Woman Aqua Yoga week the opportunity to explore and practise land yoga

Residents' access to beautiful indoor swimming pool
Not included:
Transport

Drinks

Treatments by Sasseta Alta therapists (these can be booked directly on site during the course breaks)

excursions

Travel insurance
Minimum participants 10, maximum 20
*Terms & Conditions
A 20% non-refundable deposit is required on booking and the balance is due by 1st September 2023
All participants should take out Travel Insurance to cover the whole trip including flights/travel and cancellation due to illness or injury etc.
Early Bird price until 1st August 2023
Cancellation Policy
If you are unable to attend the retreat for any reason please contact us as soon as possible by phone or email. Please confirm your cancellation in writing by email. To cover our administration costs, cancellation will be subject to the following charges which will be deducted before any refund of fees:
Cancellations for the Retreat up to 30th June 2023 retreat will be refunded minus the initial deposit (i.e. 20% of total cost which is the initial deposit when paying via payment plan).
For cancellations after this date there will be no refunds or transfers unless the retreat is full and your place can be filled from a waiting list or you introduce a new participant. In these cases we will refund the fee, minus the deposit.
We reserve the right to cancel the retreat or replace a tutor for any reason. We will only do this in exceptional circumstances that mean we are unable to offer the retreat as advertised, or if there are insufficient numbers booked to make it viable. Should this happen, we will notify you as soon as we have knowledge of the cancellation/change and in the case of cancellation we will refund you the full fee you have paid us in respect of the retreat.
In the event of cancellation we will not be liable for any transport and/or accommodation costs or any other costs you may have incurred. Please ensure you take out relevant insurance to protect yourself against this.
We will always consider special circumstances, which may be beyond your control, before implementing these charges. Any case will be considered on an individual basis at the full discretion of Birthlight.