Description
Online: 17 &18th October 6-9pm
Face to face: 26-28th 9.30-5.30 (last day finishing at 4.30pm) Linton, near Cambridge, UK
Online: 2nd November  6-9pm  
Cost: Members/Non-members £560/£595
Payment is possible in 2 installments before the start of the course.
This training is a unique opportunity to study directly with Françoise Freedman who began offering bespoke 'parent & infant aquatics' sessions in 1992 after a decade of experimenting with her own babies in the pool. 
Thirty years ago, small groups of babies and toddlers came to the Windmill School pool in Cambridge for weekly sessions with Françoise Freedman. This was the start of a successful partnership with STA (Swimming Teachers' Association) through which the Birthlight techniques have been widely disseminated in mainstream baby swimming, as it became an industry. But after the Covid 19 pandemic that has affected all swimming activities, there is a need to renew, refresh, re-design hands-on practices for parents and babies in water.
This 30th anniversary course distills the original teaching as developed by Francoise Freedman, in the light of new neurophysiology of infant development and learning
and recent updates with her granddaughters. Inspired by the gentle parenting ways of Amazonian indigenous people, body-based communication and attention to babies' responses correspond best to current best early education research-based practice.
Birthlight has always been clear that parents were shown how to support their babies freely and swim WITH their babies. Not to teach their babies to swim but to learn from their babies how to move with ease in water. This is enjoyable but not just sensory water play: the aim is to set best foundations for swimming and lifelong love of water, based on interactive movement.
Submersion is neither ignored nor singled out as an issue. It is simply part of baby swimming since toddlers start propelling themselves under the water surface and need to find their way of 'surfacing to breathe'. Baby-led submersion practices, one to one and in group dynamics, are central to the course with various options for different ages and parent-baby styles of interaction.
This course is three units in one, from newborn floating to toddler independent swimming, covering materials at Diploma level formerly taught in 2 separate courses. 
As a blended course, it offers

comprehensive resources on development-based early aquatic education

that teachers can access and assimilate at their leisure. The course materials are presented live, in clear presentations: recordings are accessible for six months following the course. Further resources are available on demand.

The 3 days face to face part of the course includes

8 pool hours

with the tutor, plus assessment time. All pool sessions are followed by group debriefing to reinforce the pool practice. Numerous video clips illustrate practices taught in the pool sessions.

The course is based on progressions as babies live them.

 Progressions work with babies in different age groups, with differences that are explained, but it's the practices, not the age groups, that are key. Course participants will be equipped to SEE how progressions support infant development: reflex integration, coordinated movement, gradual detachment from parent's body to water adventures. Progressions are not linear but work in expanding cycles, whatever the starting age.

The course balances theory and practice

. Participants can focus on either or both as they wish. The aim is to equip teachers with understanding and practical tools that can make a difference to their classes. Birthlight has gained an international reputation based on

quality and innovation.
In 2019, based on exchanges with international colleagues, Françoise Freedman presented a proposal for Aquatic Early Education in the future at the Tsing Tao aquatic conference in China. The Covid-19 pandemic has accelerated change worldwide. Aquatic activities with babies and young children are needed more than ever before to lay foundations for learning and development in parallel with multi-media technologies. In this training course, rising energy costs to run pools and the increased value of water on the planet are acknowledged, but warm pool classes for parents with their babies are championed as an essential asset for future parenting and early education.  
All our teachings follow the principles of yoga, in full respect of each baby's developing nervous system, their emotional balance and physical comfort and pleasure. We aim to train confident teachers who can guide parents and babies to grow their skills, their mutual understanding and shared joy with integrity. 
On this course, Françoise will offer the best of Birthlight's classic interactive aquatic practices for parents and babies together. Avoiding rigid age divisions, the course follows an organic sequence of infant development from six weeks to the third year, incorporating insights Françoise has gained through swimming with her baby granddaughters. Through these practices, she will elaborate her concept of 'water parenting' as the foundation of happy swimming for life.
This is a blended course meaning that it is part online and part face to face at the pool location. All parts of the course must be attended. Online resources will be accessible to all participants.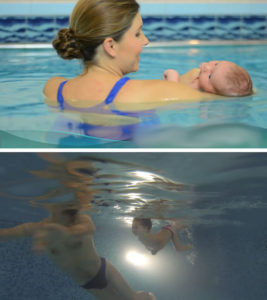 Progression to independent toddler swimming
Who

The course is for aspiring baby swimming teachers who would like to learn directly from Françoise to facilitate happy water experiences for both babies and their parents that form the foundations of swimming later on.

Teachers who have trained elsewhere who would like to learn this gentle method and deepen their knowledge, practice and skills may also join.

If you would like to discuss your suitability for this training please contact admin@birthlight.com

Where

Pool days at 

Granta Special Needs School, 

Cambridge Road, Linton 

(near Cambridge)  

CB21 4NN

When

Online: 17 &18th October 6-9pm

Face to face: 26-28th 9.30-5.30 (last day finishing at 4.30pm) 

Online: 2nd November  6-9pm  

Qualification

Birthlight Baby Swimming Diploma on successful completion of all coursework and assessments.

Contact Hours

30 hours

Max Participants:

12

New membership included in price? (y/n)

yes

Tutor created LearnDash material? (y/n)

yes

Course includes coursework?(y/n)

yes

Paper manual included ? 

no