Anglia Way
England
NN3 6NW
GB
Navigation, Intuition and Instinct
… knowing what your options are and how to navigate the pathway is so important … even the suggestion of booking in a sweep starts that ripple off …. go with your intuition and instincts – what feels right for you … navigate, negotiate and have those sensible conversations that support you and your baby so that you get the most out of the journey into motherhood and the best start.
If you are looking for a class that supports you in every way possible then please do connect … spaces available and it's so much more than a pregnancy yoga class in the traditional sense. A Ripple Effect class is a "one-stop" shop … you get so much in terms of antenatal education, an amazing tool box for pregnancy, labour, postpartum and your everyday life which has yoga, relaxation techniques, breath work, "hypnobirthing" techniques (supporting those who have been to other classes or accessed online platforms), rebozo and self care … as well as meeting other fab ladies who are also on this journey to motherhood. They are a treat and certainly not to be missed. Add in the gorgeous bespoke Space you have a recipe that will support you all the way …
A little about me … I am a gentle soul … I pride myself on the classes I offer and the amazing work that has been shared into the community over the last 18 years … I am sure that as you journey deeper into the classes available in the area you will no doubt be seated next to someone who has been along to a Ripple class and believes that everyone needs a "Claire" … 1200 babies and families to date and 2 of my own doesn't mean I am an expert but I am hoping I can help you shed some light to support you with your little one.
Look forward to connecting with you.
Claire x
Find classes with a qualified Birthlight Teacher near you or online by looking in our UK and International Directory below. You can search by name, location or qualification. If you don't find a teacher near you then please contact us.
If you are pregnant and looking for prenatal yoga or 'yoga for pregnancy' classes, look for teachers who are qualified in Perinatal Yoga, Yoga for Maternity or in the pool Aquanatal Yoga. Some teachers offer special classes or workshops for Birth Preparation or VBAC - preparing for a vaginal birth after a cesarean.
If you are looking for classes for recovery after birth you will find teachers who have qualified in Postnatal Yoga or Aqunatal Yoga teachers offering postnatal classes in the pool.
For classes more actively involving babies look for Nurturing Baby Massage, Baby Yoga, Integrated Baby Massage and Baby Yoga and Toddler Yoga. Aquatic Nurture is for young babies in baths and home pools before they are ready for the big pool and Baby Swimming and Toddler Swimmingi. Some teachers have specific training for Yoga with Special Babies and Special Baby And Toddler Swimming.
Well Woman Yoga teachers offer a range of classes from Fertility Yoga to Yoga for a Smoother Menopause. Well Woman Yoga supports women through all the life stages, cycles and transitions.Well Woman Aqua Yoga teachers offer these types of classes in the pool.
Aqua Yoga teachers provide classes in the pool for a wide range of therapeutic purposes.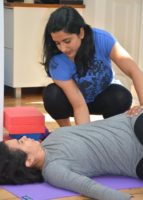 Hi, I'm a back pain specialist – Registered Osteopath & Yoga teacher – working in private practice & the NHS. I also train other yoga teachers how to teach 'Yoga for BackCare'.  More details on this here: http://www.backcarefoundation.com
How can I help you? My students and patients are typically women in their 40s who have struggled with persistent Low Back or Pelvic Pain (and the two are often linked) and find that these pains stop them doing what matters.  If you have decided that it's time to move forwards and you would like to use Yoga-based methods to help, with a teacher who also brings knowledge of healthcare, then I'm here to help.  I help my students move more and worry less, feeling strong as they get back to the important things in life.
Contact me for details of 1:1 Therapeutic Yoga, Osteopathic Treatment and health coaching.  I work in my clinic in Ealing and online – and teach students all over the world.
Online Well Woman Yoga class – Mondays 9am – book here to join this friendly and welcoming group http://www.bookwhen.com/findinghealth
Please contact me to set up a free 15 minute consulation – send me a message and I look forward to hearing more.  If I can't help, I have a trusted network of clinicians and therapists I can refer you to.
Anji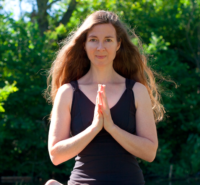 Hackney, London E9, UK
99.48 km
I am a yoga teacher with over 14 years of teaching experiencing, including many years of teaching pre-and post-natal yoga in East London. I have helped many hundreds of women to feel more comfortable,  confident and relaxed during their pregnancies and births, and have welcomed back many of them on the other side with their babies – which is always such a joy.
In the words of one of my recent students:
"I would definitely recommend Sarah's pregnancy yoga classes! They have been a real help to stay healthy and well during pregnancy, both mentally and physically. The class is tailored to pregnant mums, keeping our bodies fit during pregnancy, but Sarah also gives us very helpful tips about positions and breathing during childbirth. She clearly knows what she is talking about and she always takes her time for any concerns or questions. It never feels like she is on a schedule. The classes are more than just yoga. Each session starts with checking in on each other. It's very helpful to share pregnancy concerns with other ladies going through the same thing. The community of pregnant ladies that we have built in Sarah's classes is such a wonderful support. I can't wait to join the post-natal classes with our babies later on!"
Please contact me or visit my website for details of my current weekly classes, or follow me on https://www.instagram.com/yogini.sarah/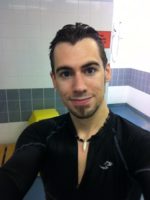 I am a senior lecturer in psychology at the University of Northampton, with research focus on wellbeing, positive psychology, parapsychology and alter-states of consciousness. I am interested in taking on research degree students who wish to focus on aqua therapy and the benefits of aqua yoga therapy. Please do contact me for more details.
I am available in Mansfield for one to one Aqua Yoga sessions on request.