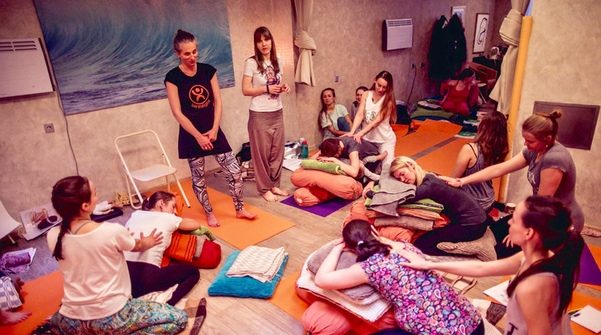 Get Started
This course is currently closed
Welcome to Birthlight
Welcome to our training course in Yoga for Pregnancy and Birth, also called Perinatal Yoga. This course incorporates all the benefits of yoga breathing along with the joy of movement and the stillness of deep relaxation. Each woman and each pregnancy are unique. With Yoga, we aim at helping each woman to celebrate and enjoy the nurturing of a new life in her body over the months and weeks of pregnancy. This course covers yoga techniques to promote physical fitness during pregnancy but it also imparts a holistic approach to maternity in which we do not separate emotional and spiritual aspects from physical well being.
Birthlight teachers create a friendly environment in their classes so that mothers to be, their partners and families are well prepared for birth, however it will unfold, and ready to welcome new babies in their lives.
We hope you enjoy the course and that it inspires you to create Yoga classes in which pregnant women can feel empowered, confident and supported.
About Birthlight
Birthlight is a UK based charitable trust that is dedicated to promoting a sensitive approach to pregnancy, birth and babies. We do this through innovative applications of yoga and practical teachings from many cultures around the world.
Birthlight promotes a holistic approach to birth; integrating body, mind and emotions through the
transformations of pregnancy, birth and parenting. We aim to support the work of midwives, bridging maternity care services and community networks.
Promoting parents' and babies' happy interactions is an important way of contributing to the optimal development of children and enhancing the bonding relationships that are formed at this time. Secure attachment and affective bonds are known to start long before birth.
Traditional techniques from the Indic cultural tradition (Ayurveda) have also been incorporated and adapted into Birthlight together with the modern Yoga that has evolved between India, America and Europe. Years of practice and research underlie the integrated set of exercises presented on this course. Scientific research related to maternity and the development of foetuses and infants is fundamental to Birthlight. As much as possible, we back the practices we teach with available evidence. For this reason we are constantly evolving.
The Foundations of Birthlight Pre and Postnatal Yoga
The Birthlight approach is rooted in Yoga philosophy and the core principles of the 8 limbs of Yoga. The practices have cumulative effects and are best practiced over time rather than as a 'course'. Building a body memory and the internalization of the practices and techniques ideally takes place progressively over many weeks during several months so that they can be called upon with ease in daily life and instinctively during labour and beyond.
Ease of movement
Grace, elegance and dignity
Delight in fluid spirals and flows
Keep it simple and enjoyable
Never stress or strain
Practical sequences to integrate into daily life
Ease and depth of breath
Flow with women's rhythms
Promote instinctive wisdom of breath
Expand breathing capacity
Lengthen exhale
'Breathe for two' (or more!)
Pelvic awareness
All movements come from the pelvis
Mobilize and free full range of pelvic movements
Pelvic floor muscles provide foundational support for spine
Awareness of pelvic floor muscles impact upon postural change
Tone and release pelvic floor muscles to create the birthing passage
Holistic Practice
Attend to the physical, emotional and spiritual needs
Breath and movement to build connections between front and back of the body
Link through the body: diagonal connections from shoulders to hips
Breath, movement and awareness are one
Remember the babies
Pregnancy yoga is for mothers and babies together
Mother's breath is baby's oxygen
Mother's rhythms rock baby
Mother's voice provides a sonic massage for baby
Prenatal yoga lays the foundation of the postnatal bond for mother and baby